We played Tetris in Overwatch and it surprisingly works great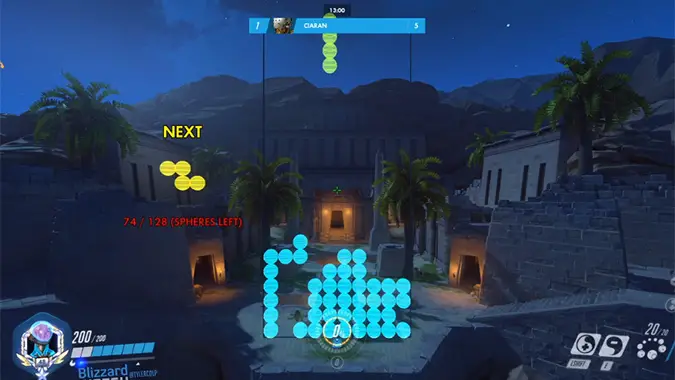 This new Tetris mode in the Overwatch Workshops works surprisingly well for a 2D game in a 3D world. The old, old game functions just as you'd expect, but it takes place with a bit of Overwatch's flair. Thanks to custom Workshop modes, you can finally take a break from the competitive PVP and chill out with some Tetris.
The mode was created by Florens and they've posted all the info you need on the Elo Hell Esports Workshop website. There you can find the information for the controls and the code to paste into the game's Custom Mode browser. It's also a good place to check if there are any updates or bug fixes.
Florens explained that they made it based off of the traditional Tetris rules for how pieces are tilted around so that they fit onto the board. They basically took the framework for how the simple game works and put it on a static screen set in Necropolis map. You can see the game in action on our stream where we played it.
The Tetris game mode is fun to play. But even if you're not a fan of the game itself, it's a good indicator for how far Workshop modes have come since the launch of the feature. We've got everything, including modes that help you get better at the game, paint, and play a Flappy Bird clone that stars Pharah. The ability to set a mode on a 2D plane opens up more possibilities for more classic game types. I'd like to see someone figure out a Chess mode or an actual, tabletop Uno mode. I'm sure at some point someone will make Mario's level 1-1 so we can follow that "1-1 rule" of every game including that iconic level.
The best part is that you can take this Tetris Workshop mode and deconstruct some of its basic parts to make your own. Anyone who makes a unique custom mode can share it with the community so that we see even more. And with the game's release on the Switch, there should be even more demand for leisurely modes like this in the future.