If you like Mythic+ in World of Warcraft, Diablo 4 has you covered with Dungeon Keys
World of Warcraft has certainly taken its fair share of ideas from the Diablo franchise: random legendary drops, the whole idea of socketing gems into loot — even the original Classic WoW talent trees were inspired by the skill trees of Diablo 2 but today the tables have turned.
Today the tables have turned. As announced at today's Diablo 4 systems panel, the Mythic+ dungeon concept introduced in WoW's Legion expansion will be making its way to Diablo 4.
Naturally, these "Dungeon Keys" will be random drops looted from monsters and chests. The key will unlock a specific version of a dungeon for your character with a difficulty rank and one or more affixes that change the nature of the challenge. Affixes can apply to "the enemies, the player, the environment, or any and all three of these." A Dungeon Key version is considered an "endgame" dungeon.
Dungeon Keys seem to be replacing the Rift Keystone system from Diablo 3. The Mythic+ concept is such a natural fit for Diablo that it's no surprise to see it appear. Diablo 4's affixes will be, in some cases, a bit more unique than those in WoW. For example, the developers mentioned a "Lightning Pulse" affix where you are chased by a ball of lightning until you complete an objective. If it catches you, it kills you. Other examples of affixes are "invisible enemies," where you can't see enemies until they attack you, and "double bosses," which is exactly what it sounds like.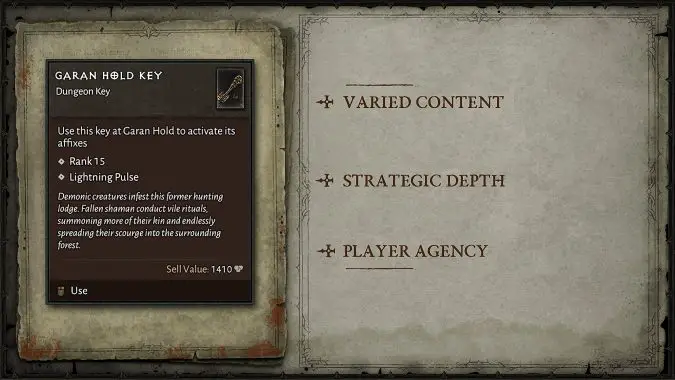 Using a Dungeon Key upgrades the loot that's available from the dungeon. Unlike WoW's Mythic+, however, Dungeon Keys can be soloed. The intent is for players to customize their builds and equipment to tackle the specific challenge that the key represents. Any regular dungeon can become an endgame, Dungeon Key dungeon, and Blizzard plans to have "hundreds" of such dungeons in the game.
Dungeons have several more compelling new features. In addition to "seamless exploration," Blizzard unveiled dungeon objectives that, once completed, increase the challenge of the area (and the rewards) as enemies become more aware of your presence. Dungeons will also draw from a large pool of random events and enemies to increase the variety of gameplay.
For those wondering how common they will be, Blizzard says that "lots of keys will drop." If you don't like a certain key, however, it still has value — unwanted keys can be salvaged into crafting materials.
Dungeon Keys sound like they can lead to absolute madness. At first glance, it seems like there's a lot more that Blizzard can do with creative affixes in Diablo 4 compared to WoW. Imagining all the possibilities is a little mind boggling. This system will certainly add to the already endless replayability of Diablo games. I can't wait to see all the nasty affixes that the Blizzard devs can throw at us!