What class feature do you envy the most on your characters?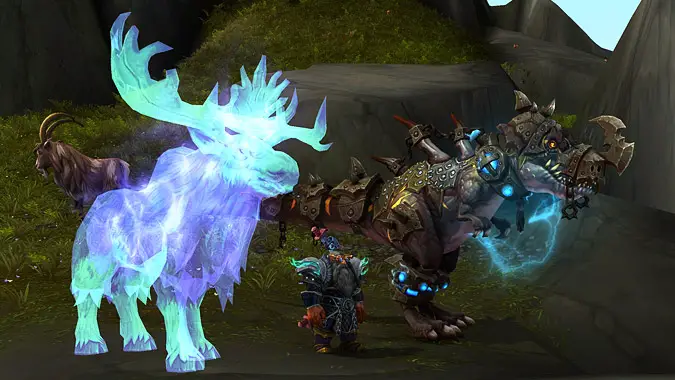 For me, no class in World of Warcraft has a cooler class feature than Hunters. Yes, I'm including Warriors in this. I like playing Warrior more than Hunters, but that's due to the aggregate — Warriors have the #2, #3, and #4 class features for me, Charge, Titan's Grip, and Bladestorm, respectively. But Number One for me, the coolest class feature in the entire game, is Tame Beast. There's just nothing quite like it. Other classes have pets, sure — Death Knights have various dead things and Warlocks have a variety of demons. But Hunters can just see various animals out in the world, and they can tame them.
"Oh, a huge, terrifying bear? Sure, I don't have one of those."
And thereafter, be it a Devilsaur or a Sabertoothed Cat or a Unicorn — a freaking unicorn — that Hunter can go around shooting at people while said animal mauls or gores or tramples their faces. It's a beautiful concept, and it's the main reason I still try and play a Hunter from time to time. The class ends up not being all that much fun for me — I really miss all the other stuff, the stuff that Warriors have. But man, Tame Beast just makes Hunters such an awesome idea, I can't even really be mad about it. It is the single coolest piece of class identity in the game, the one thing that instantly identifies and personifies the class.
I admit, if I could tame an animal friend to come into battle alongside me on my Warrior, I'd be giddy. It's a class feature I deeply envy. And so I thought, why not see if there's anything like that for you? Does your Mage secretly desperately wish she could make Healthstones? Does your Warlock crave those sweet Mage portals? Do you really like playing your Death Knight but still, sometimes you look over at Demon Hunters and say, "Why don't I have an eye laser?" What class feature do you most envy?