Community Calendar: Halloween, Halloween, and some more Halloween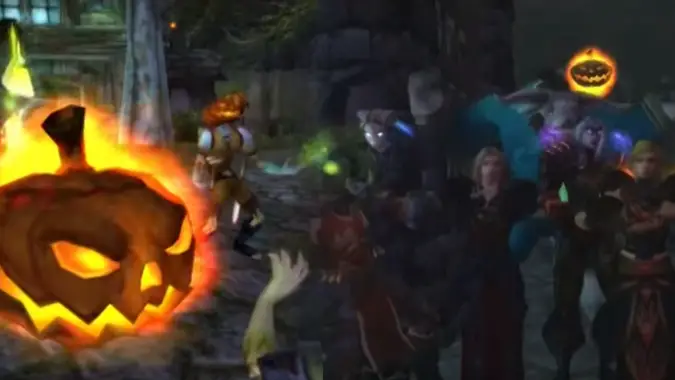 We've all made it through another week! So why not celebrate by enjoying some good old fashioned video games? Patch 9.0.1 is live in WoW, and it's possible you haven't tried every barber shop customization option yet — something that could take up the weekend all by itself. But if you have some free time, there's more going on in WoW and our other favorite games.
Here's what's coming up this week and beyond.
Running of the Gnomes Classic
Friday, October 16 at 6pm Central
Ready to race through Azeroth with thousands of other pink-haired Gnomes? This weekend the Running of the Gnomes comes to WoW Classic for the regular event on a pre-Cataclysm route. This fun run raises money for breast cancer research, and you can support the cause by donating to the Cleveland Clinic. This year, Running of the Gnomes has already raised $5,800!
To join, just make a Gnome on the classic realm Bloodsail Buccaneers (NA) — get full details on the event here.
D&D with team Blizzard Watch
Saturday, October 17 at 2:30pm Central
We're returning to our ongoing D&D campaign this weekend with a full crew including Anne, Andrew, Cory, Deb, Joe, and Liz, with DM Matthew Rossi. (It's a big crew, so hopefully I haven't forgotten anyone.) Join our rag-tag band of adventurers as we are confronted by a bevy of cursed objects that will probably be the death of us.
Join us on Twitch this Saturday or catch up on the podcast next week.
Hallow's End in WoW
October 18 – November 1
We aren't aware of anything new coming to this year's Hallow's End, but all of the regular holiday entertainment will be there for you. So get ready to do some trick-or-treating, kill the Headless Horseman, and buy any collectibles you're still missing. Wowhead has a guide to walk you through it.
Halloween Terror in Overwatch
October 13 – November 3
From werewolf Winston to rag doll Echo, there are a lot of great new skins to collect in this year's Halloween Terror event. Jump online to complete the weekly challenges and earn some spooky skins for yourself!
An intriguing Hearthstone announcement
Thursday, October 22 at 10am Central
Something is definitely brewing in Hearthstone. This early morning announcement promises a new expansion, a system revamp, and a new game mode. And even if you aren't terribly interested in the future, you can snag a Scholomance pack by watching on Twitch.
What else is coming up?
The next Diablo season is on the horizon, but it looks like it won't be happening this month. Because the PTR has been pushed back, we'll probably see season 21 wrap up in early November and Season 22 start in late November, so there's a while to wait yet.
Next month in WoW has plenty of events to look forward to, with the game's 16th anniversary and Pilgrim's Bounty. And it's always possible that we'll see Shadowlands next month, too — though my money's on the first week of December.
That's all we have for now, everyone! Have fun gaming this weekend.
Know of an in-game event we should feature? Send us a note and we'll add it to the list!