The Blizzard Watch crew rides on a demon pirate ship of doom for this month's D&D hijinks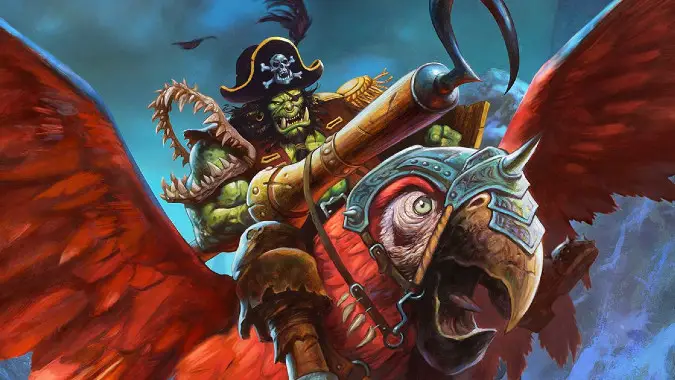 I don't know about you but for me, when I'm having a hard time figuring out a proper spooky adventure for an October D&D game, I like to have the entire party kidnapped by the Cleric's undead pirate cousin and, after fighting their way out of the hold of his terrifying demon haunted ship, make a bargain with Orcus, Demon Prince of Undeath, to dispose of two wicked artifacts that the evil doppleganger of their Wizard has been looking for.
That's just how I roll. And it's how our latest D&D session rolled, with the following cast of characters:
So what exactly happened, you may ask? Well, following the previous adventure, where the party ended up with some strange artifacts — a severed hand and an eye in want of a skull to be in — a gigantic flying ship arrived and teleported the party into a cage in the hold, surrounded by other cages. Mischief figured out a way to open their cage, but sadly also accidentally opened all the cages, and this led to a fracas with a werebadger (no, seriously), a bunch of wights, a giant toad, a hyena monster, and a really big giant dead person with a chain. Also, a gigantic ape arrived during said fracas, while Fizzl tried repeatedly to rip out his own eye and place the new eye inside his own skull and Mischief played keep away.
After all that — and after Fizzl got bit by said were badger — the party made their way out of the hold where Mediel's cousin, now an undead pirate, offered them a deal. He agreed to take them anywhere they wanted to go in the world in exchange for the eye and the hand, which he'd be giving to his demonic masters which would mean that Wilyur's evil doppleganger couldn't get his hands on them. Fizzl didn't like the deal, but everyone else decided it was better than dealing with the mind controlling artifacts any longer and so, said deal was struck. Mediel's cousin then summoned Orcus, Demon Prince of Undeath, and handed him the eye and hand.
Now they're on an evil boat crewed by undead Dwarves floating somewhere over the Riatan.
If you want to catch up with our series of adventures so far, here they are.
The entire series can be found on Soundcloud, and you can also catch us on Spotify, if that's more convenient for you. Hopefully you'll enjoy our… let's call them adventures.