Where do you go to get away from it all?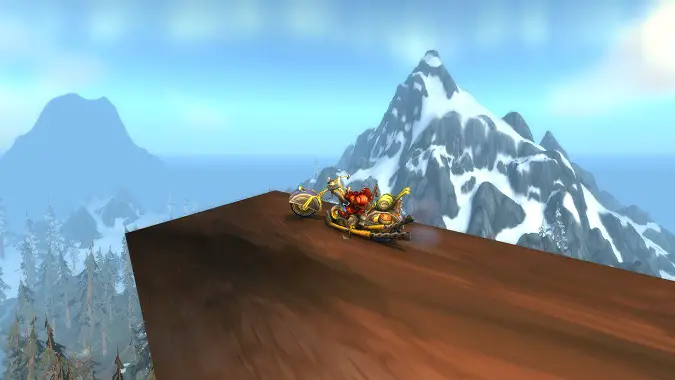 Sometimes the world gets to be too much. Whether it's the threat of the Scourge, creepy things just around the bend, or waiting (im)patiently for big changes to Azeroth, it seems like there's always some disaster lurking. When you think of life in-game, the word "struggle" readily comes to mind.
Fortunately, the world is so large that there are plenty of places to just unwind from the constant burden of being a hero. I'm not one to just sit on a beach for hours, though. When being a champion gets to be a little too much, I head to Grizzly Hills — not only to enjoy the ambience of the zone, but to ride my chopper off of Vordrassil and see how far I can fly before landing. Sometimes I'll deploy a goblin glider to see how much farther I can go, and a good number of times I'll just go splat and corpse run back. It's not a productive activity, but it gets my brain detached from concerns about Warchiefs and level squishes and giant holes in the sky.
So where do you go to reset your mind and your mood? Do you find enjoyment in repetitive activities, or do you like to just linger and enjoy the atmosphere? Or do you just get in the mood to see something you've never seen before, like how far you can fly towards the edge of the map before dying of exhaustion?
But we shouldn't limit ourselves to just Azeroth. Maybe you like to head to Overwatch or the Nexus and play leisurely against the A.I. Or perhaps you start playing Diablo 3 because it's a literal sanctuary for you. Where's your happy space?