WoW
Nov 19, 2020 4:00 pm CT
The Flight Master's Whistle won't be in Shadowlands — but it may not be necessary anymore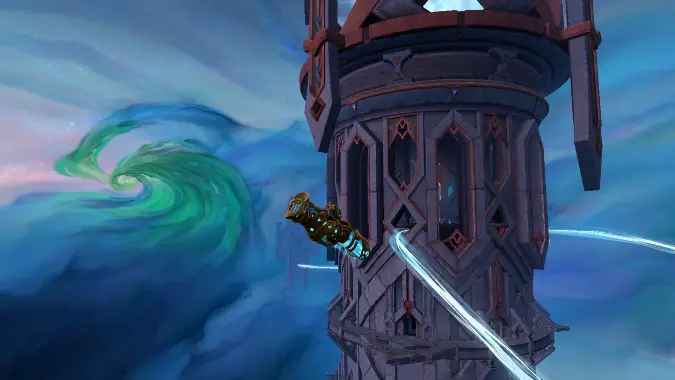 The Flight Master's Whistle — an item which we've grown used to having in recent expansions, especially when we want to get around the map quickly for World Quests — will not be making a return in Shadowlands. While this may seem like super upsetting news at first, going about our daily activities in the next expansion may be different enough that we won't even need the whistle anymore — and we may be getting something even better to replace it, anyway.
In a recent interview with Wowhead, World of Warcraft Game Director Ion Hazzikostas shared the nuts and bolts behind this decision:
The Flight Master's Whistle will not be in Shadowlands. Some of this is due to the way Shadowlands is laid out and the way that our quest wrappers at max level are laid out. We don't have emissaries any more and instead, we have Callings that will send you to a single zone. Navigating within that zone there are transportation options, especially if you are a member of that given zone, through unlocking your covenant's transportation network.
What spawned the Flight Whistle was things like the Warden and Kirin Tor emissaries in Legion, or the War Campaign objectives in BFA, where you'd look at the map and the game was telling you 'hey you need to visit these four zones and criss-cross thousands of yards in game in order to complete this single objective.' That turned into an onerous amount of travel time, but in Shadowlands, we're not asking players to do that in the same way this time around. Plus…there's a little bit of the fantasy of the whistle in the Shadowlands and all that.
Your Covenant Sanctum will allow you to collect Anima while doing these daily activities like World Quests, and use that Anima to unlock a transportation network. That transportation network should help you quickly travel back and forth within a single zone — which is where Callings, the replacement for Emissaries, will happen.
Besides, each zone in Shadowlands is smaller than their Battle for Azeroth equivalents. New zones have a smaller number of flight points, and none of them have terrain that presents travel nightmares, such as Highmountain in Legion, to name one. While I really enjoyed using the Flight Master's Whistle in Legion and BFA, the truth is that it doesn't really feel as necessary anymore.
And in an extra final bit of good news to ease the sting of losing the whistle, Ion has also confirmed in this interview what other developers had indicated before: that you will unlock flying in the Shadowlands zones during it's first major content patch (so, in theory, 9.1), and it won't require reputation grinds this time, but merely completing your main Covenant campaign and its follow-up chapters. So even if you do miss the whistle despite all the other improvements that will replace it, you won't be missing flying for too long, hopefully.