WoW
Nov 25, 2020 2:00 pm CT
Get a (small) Shadowlands rep buff this week during Pilgrim's Bounty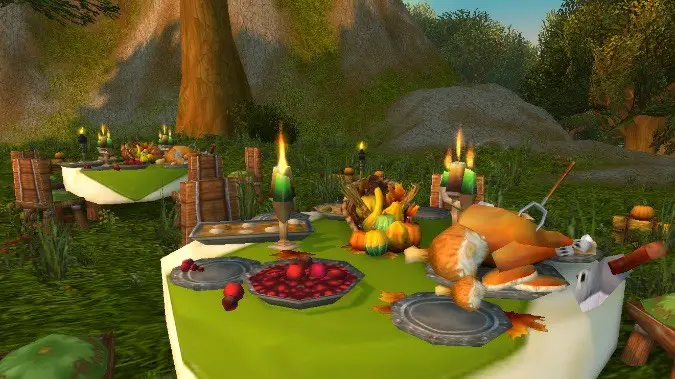 Now, to be fair, as the Wowhead article points out, Pilgrim's Bounty only gives a slight buff to your overall reputation gains, but every little bit counts. Through November 30, you can get the Sprit of Sharing buff any time you're playing to get a little reputation boost this year. If you're interested in other holiday events, Pilgrim's Bounty up during the entire first week of Shadowlands — but since the holiday is unchanged this year, the rep buff is the most interesting part.
In order to get the holiday reputation buff you have to go to a Bountiful Table — you'll find them outside capital cities as well as near many inns out in the world. At present, don't go to Stormwind or the past version of Darnassus as they appear to be bugged, but for Alliance players Ironforge or the Exodar still work, so go there first when you want to get the buff. No Horde cities appear to be bugged, so Horde players, you're free to go wherever you want.
Once you get to the Bountiful Table of choice, you simply eat one of each kind of food and then you'll have the 10% reputation bonus for the next hour, which gives you time to pop back to wherever you're working on reputation — be it Covenants or otherwise — and grind as much reputation as you can. If you have any big quests to turn in that will give you a big chunk of rep, wait to turn them in until you have the Spirit of Sharing buff and get a solid 10% on top of what they'd reward you.
Furthermore, for our Human friends? It stacks with Diplomacy.
All in all, it's hardly a game changer for anyone, but it can be a nice bump if used properly with the right circumstances. A quest that offers 400 rep will now offer 440, and that can add up if you can manage to turn in three or four in a row. So have a happy Pilgrim's Bounty in the Shadowlands, impressing the various dead people there with how much you can eat.
And if you haven't done Pilgrim's Bounty before and want a break from the Shadowlands, Wowhead has a guide to all the holiday's events.