What's your favorite new mount in Shadowlands?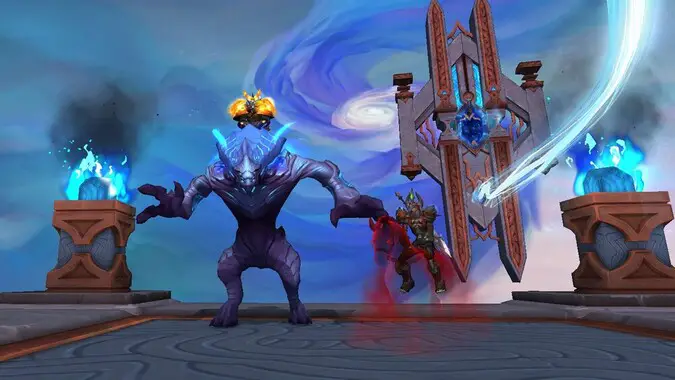 There are a lot of new mounts in Shadowlands. Some are really hidden, some you have to convince to be your new ride, while others just require you to slaughter hundreds of chimeras in Maldraxxus. With all of these new mounts, it can be hard to narrow it down to a favorite, but if you look deep inside your heart of hearts I'm sure that you'll be able to.
For me, it's my new best friend the Loyal Gorger. I totally missed that there were Gorger mounts during the Shadowlands beta, so color me surprised when I got a drop from a rare in Revendreth that let me start to train my very own Gorger. Over the next six days I started my day off deep in the depths of the Endmire Forest caring for my tiny Gorger's needs. Whether that was food or helping to make sure that he was the biggest and baddest Gorger in the neighborhood — I did it all.
Now I have my very own fluorescent beast! I love the design on the Gorgers. They're like one of the Kaiju out of Pacific Rim — all neon blue and otherworldly organic. Maybe I just have a soft spot for creatures that are obviously so very hungry. They're like cats who are trying to convince you that they've never been fed once in their life.
I have nothing against the other new mounts though. I love the new Maldraxxi Bloodtusks. You're sitting so far back that they remind me of a car from the 1950s — like you're sitting in one of those gigantic Cadillacs. I would also be remiss if I didn't mention the Arboreal Gulper. Getting a few of those in the same place always brings a smile to my face. It also has my new favorite /mountspecial command. Who knew there were so many bugs just flying around all the time?
What about you? Do you like the longer mount processes like convincing Sinrunner Blanchy to be your friend? Or are you going to pushing your skills to the max to earn one of the new Vicious Spiders from Arenas? Are you planning your Goblin Mage's Baby Yoda transmog set to match the Wildseed Cradle? Can anything really compare to riding into battle on the back of an interdimensional locust that you somehow convinced to like you?