What did you think of the finale of your Covenant Campaign?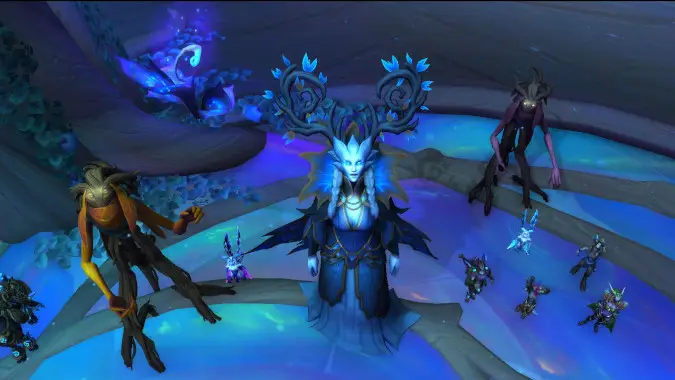 If you managed to get your Renown to 22, then you doubtless finished your Covenant Campaign and have gotten your rewards — such as an awesome mount, an LFR-level weapon (useful for those of us to whom the RNG has not been kind), and of course the satisfaction of some awesome cinematics. I did the Night Fae (as you can see above) and I have opinions about it, and I'll probably work on the Kyrian next, as I don't have another level 60 yet to do Maldraxxus or Revendreth with. I have characters ready to go, I just haven't gotten there yet.
I personally liked the Night Fae storyline a lot, although I kind of found the penultimate chapter with Bwonsamdi, various other Loa, and a certain someone we all know to be pretty interesting as well. Alas, poor [REDACTED]. I kind of hope that certain someone turns into a [REDACTED] now. There was a lot to the storyline, and I'm trying to avoid spoilers here, so I'll just say that I thought the whole thing was very interesting and I seriously hope we get a Drust raid in the next major patch.
But of course there are four campaigns with four totally different storylines, and you may have had a completely different feeling about how yours ended. So let us discuss it. What did you think of the Covenant Campaign, if you finished it? If you haven't finished it, are you just disinterested or are you still working on catching up? Should they have locked the storyline behind Renown as they did? I'm on the fence about that one — I feel like it was a good idea to give the individual chapters of the story some room to breathe but I'm also a little annoyed it took me this long to get an upgrade for my 2H weapon for my Arms spec, much less a decent shield for my tanking off-spec.
But as a story, I have no complaints — I feel like it did an excellent job of telling me who the Night Fae are, and I'm looking forward to seeing what happens next. How about you? What did you think?
(Oh, and since this is a post about the Covenant stories, consider this your spoiler warning before you head to the comments.)