Tazavesh, the new Broker-themed Megadungeon, brings some new pets to Shadowlands in patch 9.1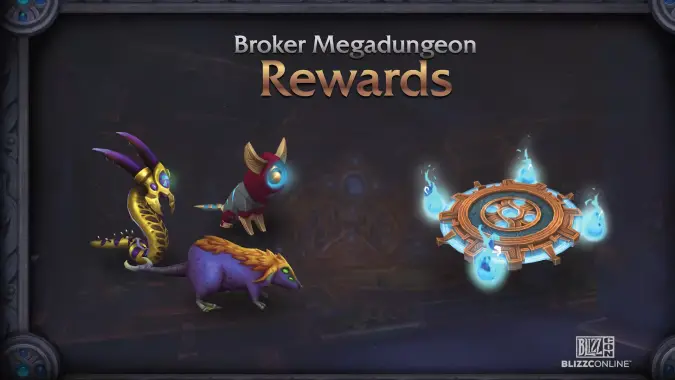 The first major patch of Shadowlands brings with it World of Warcraft's third Megadungeon, following the Return to Karazhan in Legion and Operation: Mechagon in Battle for Azeroth. Initially releasing as a Mythic-only eight boss dungeon, the Tazavesh Megadungeon promises a challenging experience for players and the opportunity for some Broker-specific cosmetics and a mount.
The gameplay details are nice and all, but of course, what we all truly care about are the three pets that were shown off during the BlizzConline Shadowlands Update panel. The first is a Broker-style cat, because Warcraft players love their cats — presuming it's not a selection in a mount poll — and this one is a cutie. It's clearly made of the substance and style of Brokers (which brings up its own questions regarding how life exists on their home plane), while still being very obviously a cat. I would wager Anima that this one will be a boss drop.
The second pet mentioned is a variation of a rat, although this one is a little upgraded with a second set of eyes, webbed toes, and a hooked tail. It will be wandering around the Megadungeon, but it's unknown whether it'll acquired via a normal wild pet battle or if there's another method of acquisition.
The final pet is actually more than a bejeweled ravager-worm hybrid — it's a currency used by the brokers as a way of showing off their wealth and prestige. As such, I imagine it'll not be easy to buy or take one from its owner, although it's possible it will be a reward for our successes in the megadungeon.
While we don't know their ability set or their family yet, and are unsure about acquisition, I'm looking forward to owning these pets, and find them more than worthy to add to my list of desirable Shadowlands companions.