So I heard you liked daily quests! Korthia, the new Maw zone in patch 9.1, will resemble the Mechagon daily quest hub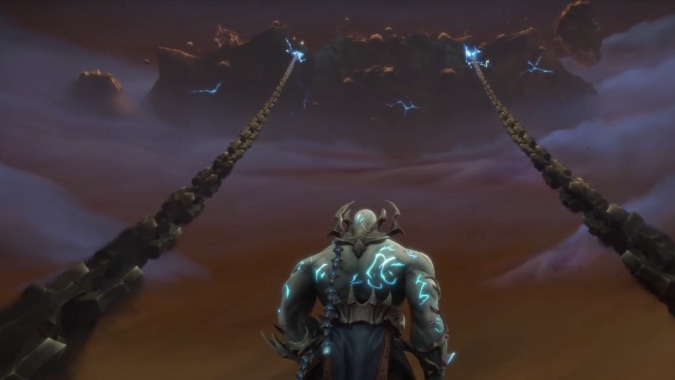 In patch 9.1, the Maw is expanding to include Korthia, a lost part of the Shadowlands that has been invaded by the Jailer and his forces as they seek… well, something, that much we know. A big part of patch 9.1 involves this mysterious realm and the Jailer's plans for it, as we push into the Maw alongside the four Covenants to bring the fight to the Jailer's forces.
But what will Korthia be like? According to Principal Game Designer Jeffrey Feasel, in an interview with Wowhead, the gameplay in Korthia looks a lot like Mechagon, the open world zone that we saw in Battle for Azeorth. 
And then we've got this whole loop of activities that you can do over in the landmass of Korthia that the Jailer pulled in. So this space was a wholly different space and it was once inhabited by some of the ancient caretakers of the Shadowlands, like the attendants and the protectors, and it contains some of the Ancient secrets that get to really the underpinnings of how the Shadowlands works, or who the First Ones were, and where all this stuff came from. All these things that the Jailer is looking for but also I think we and all of our Covenant allies have some interest about how does the Shadowlands really work underneath it all, and we'll be delving into some of these storylines.
So a lot of the Korthia stuff is going to be really centered around these mysteries and digging into that space and preventing the Jailer from doing so. Over in that hub, we're going to be looking back at our Mechagon Visitor system about having a small group of dailies show up that are very heavily themed whether or not that's Covenant friends asking us to go do things against the Jailer or asking us to get some secrets from Korthia.
Korthia looks to be a way to answer a lot of the questions players have had about the Shadowlands. How does the afterlife work? Why does this place even exist? How does it relate to the mysterious First Ones who made the gateway we use to escape the Maw? Just who are the various caretakers we meet in Oribos? In order to get started on solving some of these mysteries, we'll be engaging in gameplay similar to what we saw when we were running the open world zone of Mechagon — that means daily quests. As our Covenant allies invade the Maw, they'll send us on quests centered around us digging up the buried past of Korthia or stopping the Jailer's forces as they try and beat us to it.
I wasn't hugely enamored of Mechagon as a zone, to be honest, so I'm hoping they make these quests a little less find three random world rare mobs that may or may not even be up oops you got there just as it died, tough luck, better ride around swearing and searching for another and a little more engaging with the actual secrets we're all curious to discover. But I am interested to see how the Maw expands with Korthia and I'm desperately curious to find out how this lost land, which has much of the same Ancients that safeguard Oribos on it, relates to the Jailer's plan and what we saw in the patch 9.1 trailer. What does the Jailer really want? How does it relate to Korthia, and how are we going to stop it?
That's worth doing some daily quests, that's for sure.