What should Blizzard do to improve mob tagging in Shadowlands?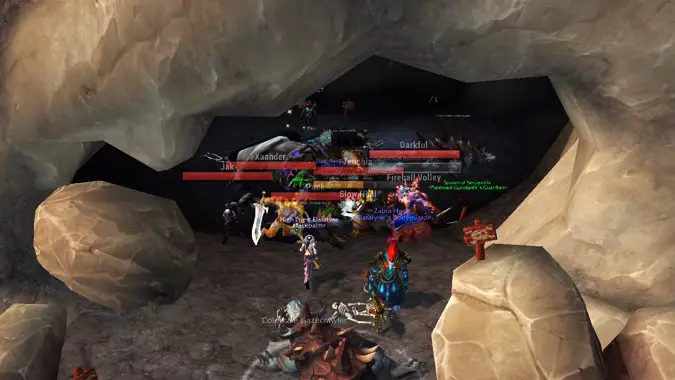 The tagging of mobs has been an area of concern for World of Warcraft even since the game was launched, as current players of WoW Classic will tell you. The past 16 years have shown a lot of improvements with the system, but in Shadowlands the remaining restrictions with tagging — only one faction can tag most mobs, only five ungrouped members of the same faction can share a tag — are becoming a real and frustrating problem for players. World Quests are already more involved than in the past, so being forced to either avoid other players entirely or to just try to tag everything you can see ends up slowing down already longer gameplay, sometimes to the point of making you want to give up on the quest entirely.
This isn't a new problem, but it's become more acute in Shadowlands for a few reasons. First, there's been an increase in the number of quests that are completed by filling a bar rather than a specific number of objectives; this method is more flexible but it also encourages rapid over focused tagging — and once one player in the area is doing it, everyone else feels compelled to do so as well to keep up. The zone design is also a factor, for while Blizzard did a great job with making zones feel larger than their physical space, quest objective areas tend to be narrower and therefore more competitive for tagging. You're also more likely to stumble upon a "farming" group while questing, and those are designed to pull all the mobs as soon as they spawn giving scant opportunity for an outsider to get a tag in.
To me, though, the biggest issue is the dissonance of how tagging is restricted. While the faction divide makes sense normally on Azeroth, in the Shadowlands themselves it's almost nonsensical — why should it matter if one of us is a Dwarf and the other a Tauren if we're both members of the Necrolord Covenant? While I don't expect them to replace faction tagging with covenant tagging (what a headache that would be!), it seems to me that continued restrictions based on Horde or Alliance membership fail the common sense test in this expansion. If completely removing faction tagging is a bridge too far conceptually, it could be limited only to War Mode shards.
Besides removing the faction tag restriction, I'd also either increase the maximum of tags allowed or remove the maximum entirely. With many quests already preventing progression while in a raid group, it wouldn't overtly encourage large groups to form. Many players would still use spray-and-pray tactics to maximize tags, but at least doing so wouldn't be a headache for others.
What do you think? Are you frustrated trying to complete quests these days due to tagging restrictions? Do you like these proposed changes, or do you have other ones you'd recommend? Or are you perfectly fine with the system right now? Let us know in the comments below!