Warchief Gaming reveals their first project, and it's a D&D campaign setting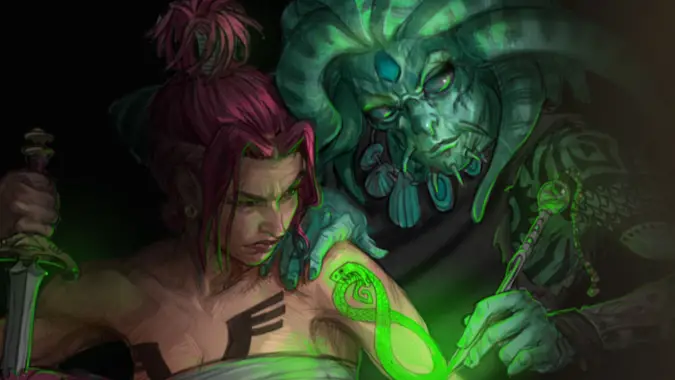 I can't pretend I'm surprised that Chris Metzen's Warchief Gaming announced today that they're making a campaign setting for Dungeons and Dragons' 5e ruleset. I was kind of expecting a complete standalone game, but it's not like we haven't seen other companies do the exact same thing to good results. With 5e, you've got a built in player base who are always hungry for more things and who will often pick up your product not even intending to run it so much as intending to strip mine it for new class options.
Well, Auroboros: Coils of the Serpent seems tailor made for the latter.
Auroboros: Coils of the Serpent. A 5E campaign setting by Chris Metzen and @Warchief set in a whole new world…https://t.co/7uh7bNy7OS pic.twitter.com/Cy9ruXw2Y4

— Warchief Gaming (@Warchief) March 23, 2021
Don't get me wrong, a lot of D&D settings are basically someone's old campaign updated and released as a product. I've thought about doing that myself, in fact. I think every DM thinks about doing that at some point in our lives. But few of us are Chris Metzen, with an established track record for creating fantasy and science fiction settings in video games and an established fan base willing to support our Kickstarter. I mean, the whole name Warchief Gaming is based around Chris, his history at Blizzard and his established duration as Thrall — this is not a trick everyone can pull off.
Now, you can't expect to get a real sense of the product from one teaser video. The basic idea of a fantasy setting ruled by a somewhat despotic church in a high medieval era of trade cities and a slumbering power threatening to rise and devour the world may sound familiar — I mean, there are notes of Star Wars and The Wheel of Time here just in that one sentence — but often in D&D it's less about blazing originality and more about how much stuff you can cram into a setting. It seems pretty clear that the team at Warchief intend to cram as much as possible into Auroboros.
I've seen concern that Warchief is aiming at a nostalgia market here which in the TTRPG space often carries with it grognard impulses that aim to turn back the clock on D&D away from the modern game with its often fumbling attempts at diversity and inclusiveness in the hobby and back to the days of the game as a boy's club, and that's worth watching out for. Often, even when the creators don't intend that, there are those who will leap on that urge to turn back the clock and weaponize it. I hope that doesn't happen here, because I personally love to steal ideas from published campaign settings like this one for my home D&D games.
I'm excited that Metzen and Warchief seem to be taking Lawbrand into a high medieval urban direction that is, in fact, a pretty big departure from old school D&D while also being reminiscent of good ol' Greyhawk, Gary Gygax's home campaign setting and one of the first published D&D settings. And having all the various races of the D&D rules living and working alongside each other in Lawbrand's trade cities strikes me as a very good move towards a more diverse and inclusive game world than the nostalgic focus may suggest.
Overall it feels a bit too early, at least for me, to have much of an opinion about what we're getting with Auroboros and its first book, Lawbrand — I know I'll be watching the Kickstarter to see what ends up being revealed there. I've loved other projects like this, like Odyssey of the Dragonlords, so I'm cautious but optimistic this will be another book of the type. And that would make me, a DM always looking for new stuff to throw at my players, very happy indeed.