WoW
Apr 2, 2021 10:00 am CT
How to complete the hidden chest quest rewarding the Steward of the Day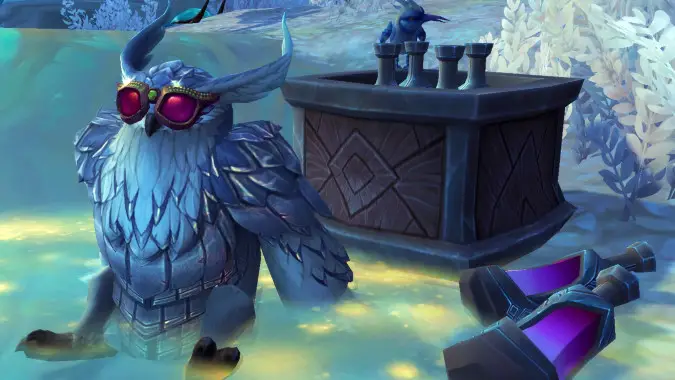 We love our little Swolekin buddies in the Shadowlands! How could we not, with their buff little wings and cheery, helpful demeanor? But did you know you can thank them for their service on a daily semi-regular basis?
The Five(-ish) W's for Steward of the Day:
Who is the lucky Steward today? Check Wowhead's front page or talk to Elios in Hero's Rest. The benefit of talking to Elios is that it puts a marker on your map. The benefit to Wowhead is that you can get coordinates from the comments.

Can you give them fruit if you looked up the Steward of the day online? YEP! As long as you have the goodies Ripe Purian fruit in your bag.

When is this quest available? (A.K.A. — why don't I see the chest on my map right now?) This only pops up when there are active Callings for Bastion that involve treasure chests! No callings in Bastion, no Steward of the Day. Such a bummer.
Where do you even get fruit? Various plates around the zone contain the mango-like Purian fruits; look for ones with a gear on mouseover and grab yourself a Ripe Purian!
What do you get in return? Steward's Golden Key
Where can you collect your reward? The Steward's Golden Chest in Hero's Rest (next to Elios!)
And finally — why should I bother? Is all of this worth the time?? Well…it's not really worth it for the immediate reward — most times, I received vendor trash and 25 Anima. But you do not have to seek this out solely from the goodness of your heart, although you should because everyone wants to reward the faithful stewards. Completing the Steward of the Day helps progress on the callings "Rare Resources" or  "A Call to Bastion." If you want to do these callings without much fighting effort, seek thee out today's special owl-person to reward.