WoW
Apr 23, 2021 10:00 am CT
Daisy the Sloth is on the way after reaching a million dollars in donations to Doctors Without Borders!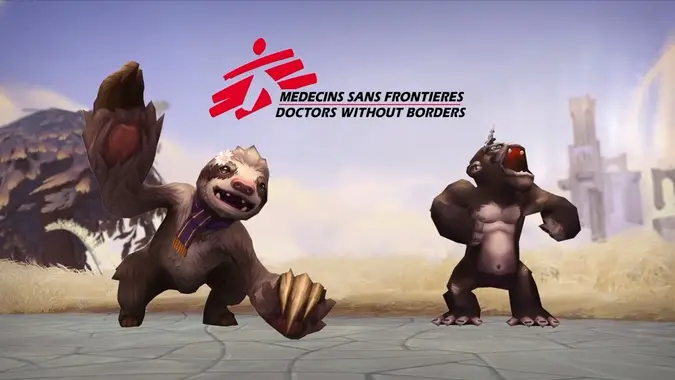 Do you like adorable sloths? How about supporting great causes? If you said yes (and we really hope you did, just on a general level), we're happy to let you know donations for the next World of Warcraft charity pet have now concluded with the goal of one million dollars for Doctors Without Borders being met — and then some!
First announced during BlizzConline, this looks to be the new way that Blizzard will be handling their charity events. There's a donation goal of $500,000 and a stretch goal of an additional $500,000. Once the first goal is reached then all Warcraft players will unlock the monkey battle pet Bananas. If the additional stretch goal is reached then everyone gets the cuddly sloth Daisy. If these goals are met all players get the pets, no matter whether or not you donated to the event!
The final tally of donations was $1,000,808! 
It looks very likely that the donation that sent us over the finish line was none other than the voice of Arthas and Garrosh, Patrick Seitz. Leading us to the amazing mashup of Garrosh Hellsloth! Sloth-tar Ogar!
GARROSH HELLSLOTH–from Heroes of the Sloth, specifically! 😍 https://t.co/jLCn5FSVDd

— Patrick Seitz (@Seitz_Unseen) April 23, 2021
Congratulations! $1 Million USD was generously donated to Doctors Without Borders/Médecins Sans Frontières (MSF) by the World of Warcraft community! The Daisy, the Sloth goal has been reached and she will become available to modern World of Warcraft players for free as soon as possible on April 23 from within the 
Blizzard Shop
.
Be sure to claim Daisy and Bananas before August 1, 2021 in North and South America (August 2 in Europe, Russia and Asia)! After this date, Daisy will be available to purchase in the in-game shop or in the Blizzard Shop and Bananas will no longer be available.
Your generosity to the MSF COVID-19 Crisis Fund will enable urgently needed medical care and support in more than 70 countries to counter the new coronavirus disease. Thank you for your global efforts in raising the funds to support MSF's COVID-19 response activities worldwide during the WoW Charity Pet Program.
You can claim your Bananas and Daisy pets by going to the Blizzard pet shop. Once claimed, Bananas and Daisy should just appear in your pet journal. In a few cases players haven't been seeing their Bananas appear in-game, Blizzard has provided an easy fix that should ensure that you can spend quality time with your new monkey and sloth pals.
Completely exit the game by closing the WoW client – don't just log out of your realm.
Restart the game by pressing the PLAY button in the Battle.net launcher.
Once you've logged into the game, Bananas should now be appearing in your pet collection.

Now that you've gotten your lovely sloth pet, don't forget that Daisy will ride you like a backpack! To make Daisy do this in-game, all you have to do is target her and type /beckon — she'll hop right up!
I love when we get to see how generous the Warcraft community can be with events like this. It really shows that no matter the faction you play or where you are in the world, that we're all one big family.
Originally published 3/18/2021, updated 4/23/2021