WoW
Jun 30, 2021 3:00 pm CT
You'll be able to storm the new Sanctum of Domination raid starting on July 6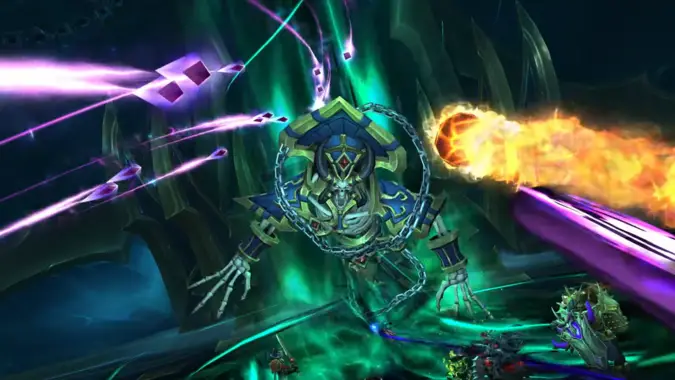 Are you ready to fight the Jailer and his minions in the seat of their power? Sanctum of Domination is the new ten boss raid that's coming with the release of Shadowlands patch 9.1. Inside of it, we'll be facing off some of the strongest forces that the Jailer can field including the fearsome Tarragrue — and also some of the biggest names in Warcraft history. Kel'thuzad, Ner'zhul, and Sylvanas are all encounters within, and even former Warchief Garrosh will be making an appearance! The raid will open one week after the patch goes live for Normal and Heroic difficulties and the week after for Mythic and the first LFR wing.
Raid Unlock Schedule
July 6 – Normal and Heroic Difficulties
July 13 – Raid Finder Wing 1 and Mythic Difficulties (The Tarragrue, The Eye of the Jailer, The Nine)
July 27 – Raid Finder Wing 2 (Soulrender Dormazain, Remnant of Ner'zhul, and Painsmith Raznal)
August 10 – Raid Finder Wing 3 (Guardian of the First Ones, Fatescribe Roh-Kalo, and Kel'Thuzad)
August 24 – Raid Finder Wing 4 (Sylvanas Windrunner)
For players looking to get into LFR — the base item level that you'll need is 195. You'll be able to get pretty close to that right now with a set of fully upgraded Covenant armor. With the launch of patch 9.1 you'll also be able to get a nice set of gear from Korthia that'll also a good source of power. With some work, you'll be able to upgrade that as high as ilevel 233.
I'm sure that the guilds involved with the Race to World First are happy that they're not going to have to worry about a holiday in the middle of their race this time around. I can't wait to see if Limit can go for their third win in a row. The last race had such a photo finish between them and Echo that I'm sure this one will be even more exciting. Will Kel'thuzad wind up being harder than Sylvanas? Will there be a secret Mythic only phase in the Sylvanas fight? We'll have to tune in to see!
For the rest of us, it's nice to finally know when we'll be able to take the fight to Sylvanas. She's been twirling her mustache in peace for far too long. Hunters and Rogues especially must be ready to fight her to try and get their hands on those extra fancy weapons she drops. Sadly, there's nothing as amazing for Guardian Druids on her loot table, but I'm still looking forward to the fight.
Originally published 6/17/ 2021