Latest Hearthstone patch adds Kurtrus Ashfallen to Battlegrounds, plus buffs to struggling heroes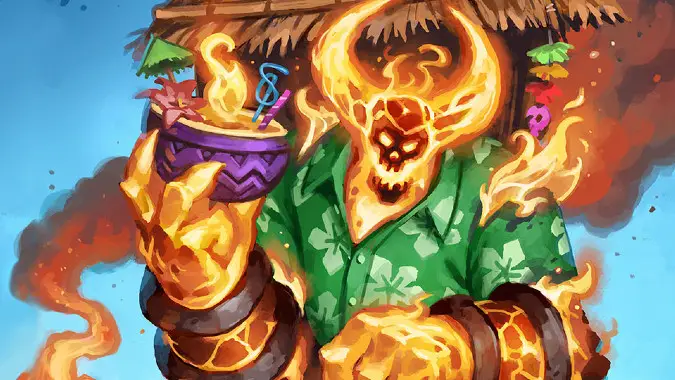 As if today's expansion announcement wasn't enough, we also got a new Hearthstone patch featuring a plethora of Battlegrounds updates. We have a new hero, updates to heroes, minions, and more, and all-new types of cosmetics… seriously, it feels like a mini-BlizzConline!
With so much for us to get through, I won't waste much more time with elaborate intros. Read on to see all that Hearthstone has in store for Battlegrounds — many of them are already live, with more coming over the next few days and weeks.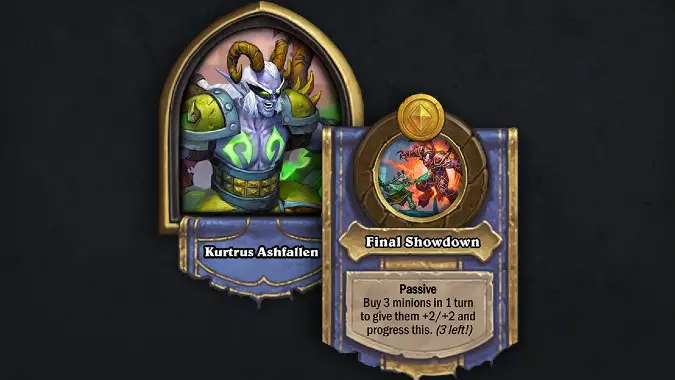 A new hero, some returning ones, and several balance changes
We open with the brand-new hero, Kurtrus Ashfallen. His Hero Power is passive, but advances through multiple steps as you buy minions in the game, similar to the Questlines coming in the United in Stormwind expansion.
Kurtrus Ashfallen
Final Showdown

[Passive] Buy 3 minions in 1 turn to give them +2/+2 and progress this.

Gain Momentum

[Passive] Buy 4 minions in 1 turn to give your hand and board +2/+2 and progress this.

Close the Portal

[Passive] Buy 5 minions in 1 turn to give ALL your minions this game +2/+2.
Many heroes have been re-balanced — and mostly buffed
The list is of heroes getting changes is very extensive, so you should check the blog for a full list of specific changes. Suffice to say, a total of nine current heroes have been rebalanced. Guff Runetotem has been nerfed, while Dinotamer Brann was completely reworked. Meanwhile, Edwin VanCleef, Illidan Stormrage, Sindragosa, Overlord Saurfang, N'Zoth, The Curator, and King Mukla have all been buffed one way or another.
We also have several heroes returning to the rotation. The Lich King is back after being removed temporarily due to a bug. Many other heroes are returning as well: Galakrond and Trade Prince Gallywix are back in buffed forms, and Maiev Shadowsong (whose absence was short) comes back with a slight nerf. In exchange for all of those returns, we're losing Shudderwock, who is out of the hero pool for now.
It's great to see these weaker heroes being given a fighting chance, and I really hope to see more of that in the future.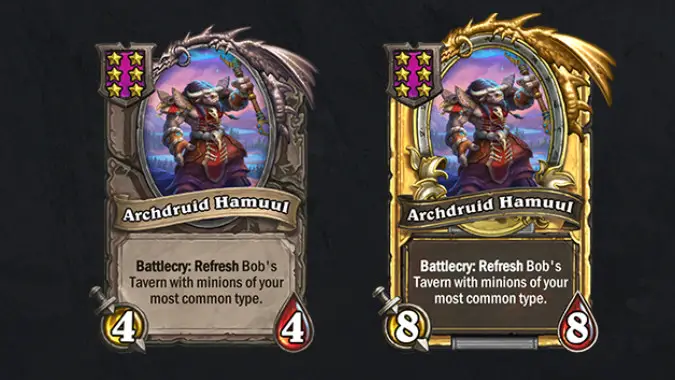 Battlegrounds minions are getting some changes as well
There's a brand-new minion, which seems to be a good option for every tribe — but far less useful for Menagerie builds, which are somewhat dominant at the moment.
Archdruid Hamuul
[Tier 6] Battlecry: Refresh Bob's Tavern with your most common minion type.
Hopefully Hamuul's introduction as a tribe-agnostic Tier 6 minion will be good for non-Menagerie builds, and actually make things a little more balanced in the future.
Minion changes
…there are lots and lots of them.  Seriously, check the blog, my friend.
The "too long; didn't read" version is that nearly every tribe is being buffed:
Only Quilboars, Murlocs, and Pirates remain untouched, while everyone else is stronger — which should result in fewer games dominated by piggies or fishes from now on.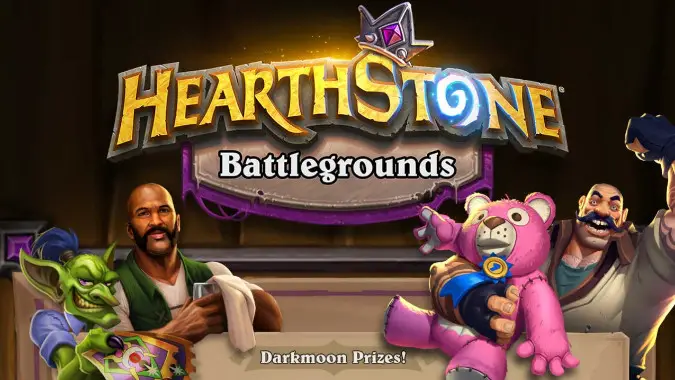 More things! I need MORE things!
Don't worry! If you don't think that all of those hero and minion changes are enough, the Hearthstone team still has plenty more in store for you.
Darkmoon Prizes return (sometimes), with balance changes
Some players loved them, others hated them — though I'm personally on the former camp. Whatever the case, the fact is that when Darkmoon Prizes were in the game, matches were very different than they are without them. It seems like Blizzard has found a compromise: Darkmoon Prizes are returning, but only in 25% of matches. So you should, in theory, see them in 1 out of every 4 matches you play, making them a feature that changes things up every once in a while, without making gameplay fully revolve around prizes.
The Darkmoon Prizes are also being rebalanced. A few of the weaker ones have been buffed, while the stronger ones are untouched. And one of them, I'm Still Just a Rat in a Cage, has moved from Prize Turn 3 to Prize Turn 2 — despite all our rage, it really did.
To check out all the changes, check the blog.
Battleground Cosmetics are coming
On July 27, we'll get our very first bundles of Battlegrounds Cosmetics! These will include hero skins for some of the existing Battlegrounds heroes as well as alternate bartenders — for an as-of-yet-unknown price. The Beach Party bundle will include skins with that particular theme for seven heroes, as well as an alternate Bartender: you can have Tikilord Ragnaros helping you out instead of Bob!
The other bundle, called Battleground Heroes: Shadowlands, will not have an alternate Bartender, but will feature eight (rather than seven) skins based around the current World of Warcraft expansion, Shadowlands.
There's another blog going into more detail about all of this, including the promise that more bundles with skins, as well as alternate Bartenders, are still coming!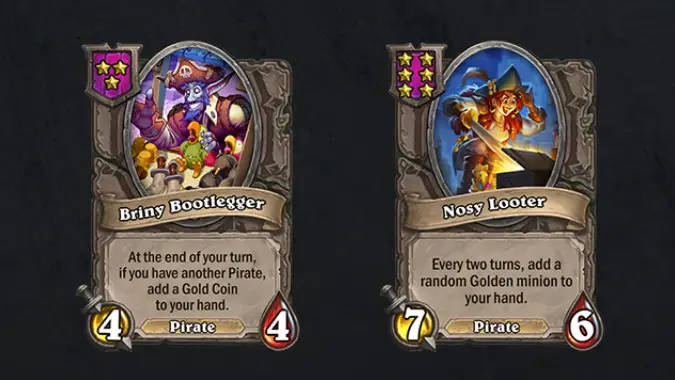 The future of Battlegrounds
…is uncertain. But some things are already sure: there will be a future Battlegrounds update where we'll get even more new heroes and there will also be a major rework of all minion tribes. 30 of the existing minions will be swapped out for brand-new ones, which are supposedly designed to be more in-tune with whatever the core fantasy of that tribe is.
In the example that was given, we get two new Pirate cards which are all about earning more Gold and Golden minions, which should be the new theme for this tribe. All in all, there's a lot of stuff that is already live, some more that is coming soon, and the promise of much more that is still to come this year. Good times! Merry times!