WoW
Jul 19, 2021 10:00 am CT
How to watch the Sanctum of Domination Mythic Race to World First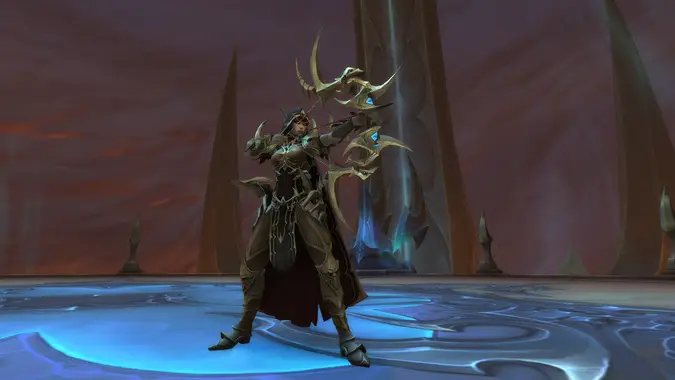 The Race to World First is well underway, so it's time to tune in to watch all of your favorite guilds as they compete to be the best raiders in the world. The race to kill Sylvanas is fierce. Guilds farmed the Sanctum of Domination as much as they can, trying to get the extremely valuable Domination Sockets and weapons that Sylvanas can drop. Method was offering up to two million gold for Rogues who are lucky enough to get their hands on Edge of Night and are able to trade it to the guild.
Now the first few bosses of the raid are dead, with newcomers Soniqs Imperative, mainstay BDGG, and defending champions Complexity-Limit holding the top there spots. But there's still plenty of time for things to change as guilds progress through the raid. All of the usual suspects are back to broadcast their attempts this year, although long-time guild Exorsus has retired from competitive mythic raiding and will not be competing for World First. Here are the guides to watch, and where to watch them.
Complexity-Limit
Announcing the Complexity-Limit Race to World First, Sanctum of Domination!

⛓️ Starts July 13th
⛓️ 16+ hours of coverage each day
⛓️ 18 raiders on site

Only at https://t.co/mvuTLOy4KQ#WeAreCOL | #LimitRWF pic.twitter.com/BKawqlEikg

— COMPLEXITY-LIMIT (@LimitGuild) July 1, 2021
Complexity-Limit has been the number one guild in the world since N'zoth back at the end of Battle for Azeroth. They've been putting on master class performances for even longer, giving Method a run for their money since as far back as Antorus, the Burning Throne. You can catch their main Twitch broadcast here, but don't forget to peek in on their guild leader Max's stream too. He's been raid leading from outside of the raid for the last couple of events and it's been super interesting to watch how a raid leader in that situation works.
Echo
✅ Rested exp.
✅ Stam buff
✅ Ready check
🌋 LET'S GO!!

We will see you LIVE from Echo's Race to World First event at @erupt_lounge in Switzerland! #TeamEcho pic.twitter.com/0crlKZIcWk

— Echo (@EchoGuild) June 30, 2021
The number two guild in the world, Echo is looking to prove that even with their start in Europe a day later than the North American servers they are the superior guild. They almost had Sire Denathrius first during Castle Nathria but wound up being just a little behind. Tune in here to watch them in action.
Pieces
🔥 14 July | 08:00 CEST 🔥

Pieces joins the Race to World First – Sanctum of Domination ⛓️

📺 https://t.co/iMAyxuQDUy#PiecesTogether🧩 pic.twitter.com/gBYc5z5i7L

— Pieces (@PiecesGuild) July 7, 2021
Pieces took third place in Castle Nathria and haven't had a world first since the Crucible of Storms back in Battle for Azeroth. Will they turn the Sanctum of Domination into a true three guild race, or will Kel'Thuzad freeze them in place long enough for Echo or Complexity-Limit to take the victory? Follow along for all of their attempts on Twitch.
BDGG
Announcing our return to the totally serious world of esports athletics in ⛓ Sanctum of Domination ⛓

💥 Casters and Blasters
🔊 Increased Comms and Insights
🌶 Spiciest of Memes

☝ Follow us on Twitch 👆#Warcraft pic.twitter.com/vpBf6kBkXb

— BDGG (@bigdumbgaming) July 7, 2021
BDGG was the second North American guild to clear Castle Nathria, but the first in terms of memes. They might not be sitting in the top three for progression, but they're always an entertaining watch. Will Sanctum of Domination be their time to shine though? I know I'll be watching them on Twitch to see if they can turn their memes into dreams.
Method
✓ Memes you've never seen before
✓ More cosy than you've ever been before
✓ Casters you know and love
✓ And brand new partners…

The Race to World First is back 🗻#methodway #RWF #Warcraft pic.twitter.com/2lvcrn41cO

— Method (@Method) June 28, 2021
Method took seventh place in Castle Nathria after rebuilding their guild last year. A strong showing, and proof that they would be able to hang in the top ten again with the new roster. We'll see if their new additions in the months since will make all the difference and get them back into the top five. They'll be broadcasting their event on Twitch along with the others, so we'll be able to tune in to cheer them on.
Soniqs Imperative
Splits finished. Gear acquired. Ready for Mythic!

Make sure you guys check us out tomorrow on the @SoniqsEsports team page:https://t.co/5Ih45QOHH4

Lets get it. #imperativegg #Warcraft #RWF pic.twitter.com/0GIn21nRoe

— Soniqs Imperative (@imperative_gg) July 13, 2021
Imperative has taken an early lead in the race, tearing through the first three bosses. You can catch a dozen of their raiders streaming on Twitch.
These are just the biggest events being run by guilds. There are still more who'll be rounding out the top ten, and fighting to prove that they have what it takes. They'll all have to watch out for the newly formed Chinese guild Team Aster who is made up of members of several former top Chinese guilds. They're the ones who managed to sneak the World First Heroic Sylvanas kill out from under Echo's nose by only 73 minutes! With a performance like that they could be a strong contender for one of those top spots.
We'll have lots of coverage here on Blizzard Watch as the bosses fall in Sanctum of Domination. So keep checking back to see how these guilds are faring — and may the best raiders win!
Originally posted 7/13/2021. Updated 7/19/2021.