When is it time for a game franchise to move on from its original premise?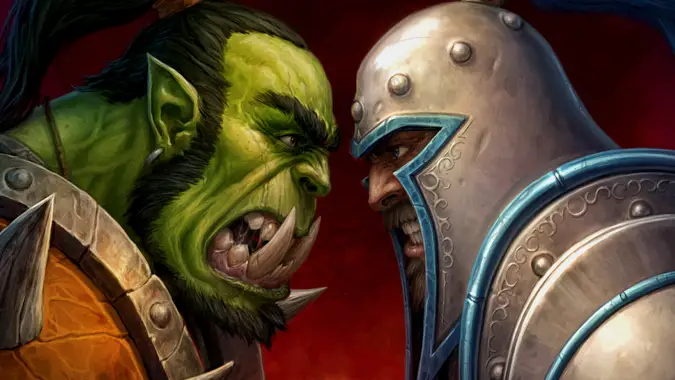 One thing I have been hearing for literally years at this point is the idea that Warcraft, as a franchise, is tied to the concept of conflict, or outright war, between Orcs and Humans, or the Horde and the Alliance, and that this cycle is instrumental to the success of the franchise and must be retained as part of the setting's core. I understand this argument — it's hard to argue that Warcraft and Warcraft 2 weren't very heavily rooted in this idea.
It's also hard to argue that Warcraft 3, the most critically beloved and well received of the three RTS games, didn't deliberately deconstruct this idea. It feels at times like Blizzard has spent the entire seventeen year history of World of Warcraft simultaneously trying to hearken back to WC3 for stories and nostalgia yet running away from the basic message of WC3 as hard as they possibly can. Namely, that the war between Orcs and Humans, or between the Horde and Alliance, is a mistake. That only when the mortal races band together can they possibly hope to prevail against the cosmic level forces that threaten to devour their world.
There's a constant tension between these ideas. Expansions like The Burning Crusade and Wrath of the Lich King put the Horde/Alliance rivalry on the back burner, simmering away, while still making the case that the conflict between the two factions is a distraction that allows bigger threats to flourish. Expansions like Cataclysm, or Mists of Pandaria, bring the faction conflict back to boil and often end up getting stuff all over the metaphorical stove we're cooking the MMO on. We've now seen this cycle reoccur several times. First in the RTS with WC3, then the MMO essentially reset and expanded the faction conflict only to move it forward and back into prominence until we reached Battle for Azeroth and the War of Thorns/Fourth War.
So I now feel like I have to ask — can we move past it already? Can we finally just accept that the Horde/Alliance conflict has been done and done again as a story element? That we quite simply just don't need to see it rehashed? When can a franchise move past that kind of constant recursion?