What are the MMO zones and locations that you never get tired of?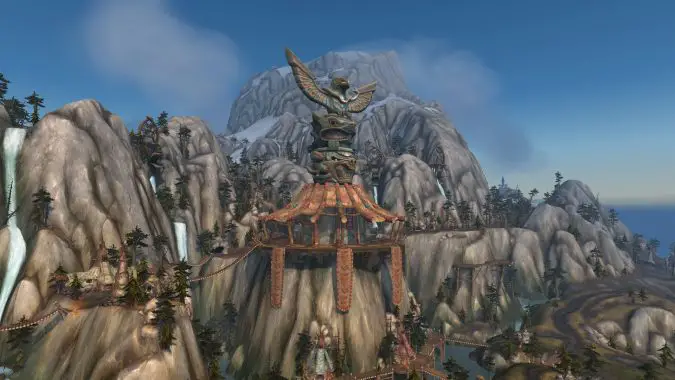 While waiting for the End of Dragons expansion for Guild Wars 2 — as well as Shadowlands patch 9.2 — I've started leveling new WoW toons to unlock the Allied Races Heritage Armor. The first two characters I leveled both spent time questing in Highmountain, and the next one will as well. Why? Because I absolutely love Highmountain. I have literally leveled two dozen characters through that zone, and each time I find new things to love about it. Whether it be teaching Addie to hunt or reuniting the tribes, I always give an impassioned "We are Highmountain!" every time I pass through… even when I get stepped on by Gornoth the Lost.
Highmountain isn't the only zone in the game I spend a lot of time in; I've essentially memorized Loch Modan after leveling Alliance toons through there so many times. Ando may be disillusioned when I get there, but I'll help him regain an inventive Gnomish outlook. I'll disguise myself as a bush, disrupt an attempted alliance between Gnomes and Murlocs, and then kick back at the Stoutlager Inn in Thelsamar — my favorite rest spot in the game, and one of the few inns you're still resting while at the outside tables. Sure it looked better before the dam got destroyed in the Shattering, but while I may forget the names of people I work with, I won't forget the names and locations of all the rares and Explorer League Documents in that zone.
When leveling in Guild Wars 2, I have a tendency to revisit the same zones, especially those in the Shiverpeak Mountains with a decided Norn flavor — Wayfarer Foothills, the starting Norn zone, is my favorite, but Timberline Falls is a close second. There's something about the harsh weather and fast-moving rivers that just appeals to me, so I tend to take my time in those zones and actually watch the entire vista cutscene when I visit one.
What about you –what are your favorite zones? Do you tend to level in the same ones over and over for aesthetic or narrative joy? Do you try to mix it up because you're afraid you'll get bored after defeating Hogger or Grand Ma'da Ateena? What about in games outside of World of Warcraft — in Final Fantasy XIV do you always start a new toon in Gridania because you miss Yda and Papalymo?