WoW
Mar 22, 2022 10:00 am CT
Day 14 of the Race to World First: Echo defeats Rygelon to be the first guild in the world to reach the Jailer
Echo managed to beat Rygelon on day 13 of the Race to World First, becoming the first guild in the world able to challenge the Mythic Jailer encounter. Today, they start learning just how much pain he's going to put them through in their quest for World First Sepulcher of the First Ones.
Between the Lords of Dread and Rygelon, it wasn't an easy weekend though. First, they had to bring an incredibly novel makeup to defeat the Lords of Dread — almost entirely melee DPS! The extra cleave damage really helped them put a stake through those Dreadlords hearts. Not a minute too soon either — Team Liquid was only three hours behind them on that kill. Then it was full steam ahead on Rygelon.
The Dominated Constellar Rygelon wasn't ready to be a pushover though. He still put them through their paces for a respectable 204 pulls. They couldn't even use the tricks like bringing Necrolords with the Forgeborne Reveries that they'd just used on the Lords of Dread encounter to survive through the enrage. When Rygelon blows up the raid, he really blows up the raid — total cosmic destruction style. Do not pass go, do not collect two hundred dollars.
It took Liquid 246 total attempts to get Rygelon. Thirty-nine of those were on Monday morning, and over the course of those 39 attempts, they had seven sub 1% wipes, including their second pull of the morning. If they'd it off then, they would've defeated it in fewer pulls than Echo and gotten a full day of progress on the Jailer.
Current standings on the Jailer according to Warcraft Logs are:
Echo: 61 pulls – 76.6% best attempt
Team Liquid 52 pulls – 72.5% best attempt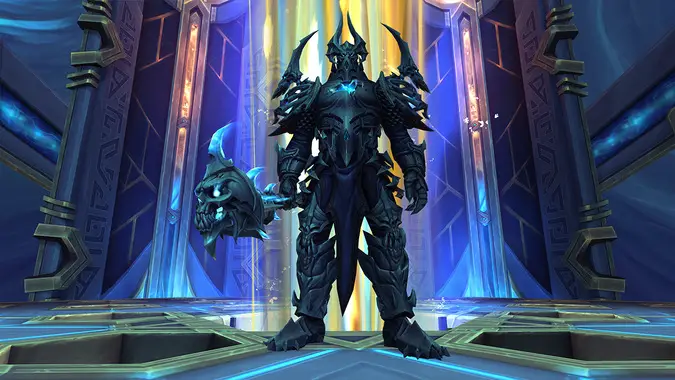 Week three of the Race to World First
Liquid and Echo remain two bosses ahead of the next closest guilds in the race. Method, BDGG, Skyline, and SK Pieces all have Anduin dead — but none have managed to kill either Rygelon or the Lords of Dread. With reset happening they'll have to reclear the raid to get back to where they are. Will they be able to do it quickly to make progress? Anduin has had his bugged Empowered Divine Star mechanic fixed, so it'll be interesting to see if the increased damage from unlocking the second legendary item this week will make up for actually having to do the mechanic properly.
I doubt that Liquid or Echo would choose to give up the ten bosses worth of gear from Mythic Sepulcher so they'll probably both reclear the raid as well. The last time Liquid recleared it only took them four pulls to kill Halondrus for a second time — a boss that gave them way more trouble than Rygelon and the Lords of Dread did. So I doubt we'll see either of them choosing to extend their Jailer lockout — especially since he's still in the 75% range.
The other big boss to consider is Real Life. Many of these guilds take time off to keep up with this punishing schedule of raiding — but since most raids are cleared in about two weeks that's likely all the time players took off. With us hitting the third week of the Mythic race will some of the players from these guilds have to return to a more normal schedule?
We'll have more information for you on the Race to World First as the Jailer is defeated — keep watching the ratings for the latest!