What games have used borrowed-power systems — like Legion's Artifacts — well?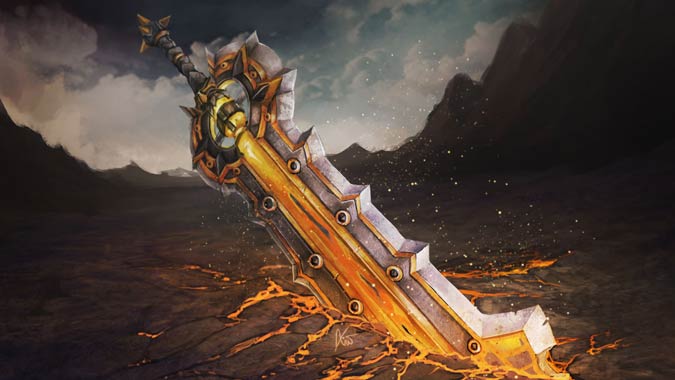 World of Warcraft has embraced Borrowed Power systems repeatedly since 2016's Legion expansion, to the point where both Battle for Azeroth and Shadowlands have had multiple such systems within them. In my opinion, despite the flaws of the system, the Artifact from Legion was the only one of these systems that I really liked. Each class got multiple cool new weapons with heavy story as well as new mechanics and an ascending power curve that continued as you leveled and throughout your endgame. You never had to get a new Artifact — you got your three and you were done, so it didn't act like Azerite Armor did. Well,  okay, Druids got four and Demon Hunters only got two.
This is not to say Artifacts and Artifact Power didn't have flaws. The sheer number bloat involved in Artifact Power got to the point where we were farming up billions upon billion of AP to empower our weapons, there was no real meaningful choice in our Artifacts as we leveled them up — you'd eventually get every power, like a talent system where you just get every talent — and the final cherry on top was an endless well that you just poured AP into and got stronger and stronger, without any particular finesse. But despite those flaws, the system felt cool and unique, it was fun to have these amazing weapons out of antiquity at our disposal, and their transmog appearances have made the game more fun even two expansions later.
I don't think any of the systems we've gotten since have been as much fun. I really never liked Azerite Armor — too many finicky respeccing systems and constantly having to replace pieces of armor with newer, better one. And while it fixed the whole idea of the Artifacts having no real decisions it did so by almost always having one overwhelmingly powerful option you simply had to get, meaning if a piece of armor didn't have that, you'd dump it. Each successive system, from Corruption to Soulbinds, has felt a bit flat to me.
But what about you? Can you think of a Borrowed Power system that you really liked? Maybe one in some other game? How would you implement the next Borrowed Power, if we got one?