Buddies are leaving Hearthstone Battlegrounds, at least temporarily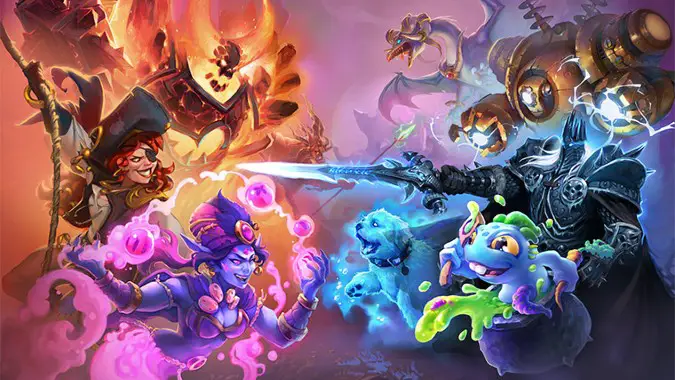 The upcoming major patch for Hearthstone Battlegrounds, which will introduce Naga minions and the Spellcraft keyword, will also remove Buddies from the game — for now, at least. In one of last week's reveal videos, popular streamer Kripparian had Hearthstone game designer Dominic Calkosz share the news that Buddies will, in fact, be absent from the next Battlegrounds Season.
Attentive players had already been speculating that since the new Azshara hero was revealed. Azshara had no Buddy of her own — which could have been simply a piece of withheld information, but ended up being, in fact, a hint of things to come, as confirmed by Dominic's words:
Buddies are rotating out to make room for Naga. That will be a big shake-up in itself, but it also gives us space to do more powerful things and have less complication going on overall.
We had already been made aware of the Hearthstone team's plans for the game mode in the current Year of the Hydra: Battlegrounds will now operate in Seasons, which are similar to the expansions from Standard mode. The Hearthstone team had anticipated that each Season would bring "big changes" with it — which, we know now, can be as major as the entire Buddy system being removed or re-added later.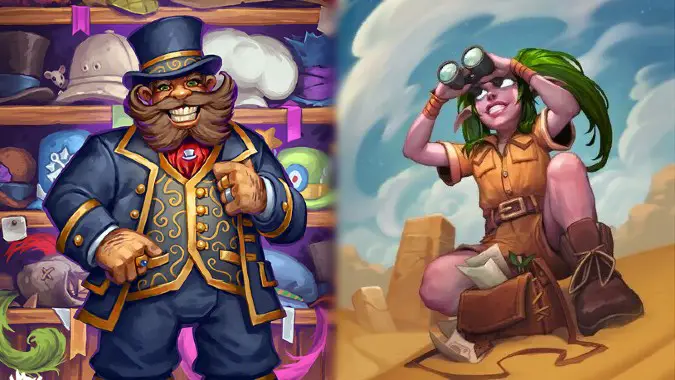 What will Hearthstone Battlegrounds look like without Buddies?
The most obvious implication is that the current balance state of heroes will be thrown out the window. Certain heroes still play much the same with their Buddies as they did before getting them — the Buddy simply enhanced their original game plan — while others have been completely transformed.
Changes in power were absolutely major: some of the sharpest examples include A.F.Kay, who went from being one of the weakest heroes in the game to one of the strongest, and Elise Starseeker, who had the opposite journey. These power discrepancies led to a few rounds of buffs and nerfs, and eventually, to the return of the Armor system — which has been a fantastic tuning knob for the game.
In fact, armor is staying, although there are completely new armor levels for each hero, which is to be expected — their power levels are completely different without their Buddies.
We're also probably going to see a return to faster-paced starts, where players will once again feel compelled to aggressively level up their Tavern Tiers in the early game. That kind of strategy, which had become the norm, was drastically halted with the introduction of Buddies, since players could no longer afford to lose those early games — that usually meant filling your Buddy meter slowly, and falling behind as your opponents got their Buddies and you didn't get yours.
I love when people believe that everyone or a a solid majority agrees with them.

And turns out… pic.twitter.com/sc4z80NJqc

— Liquid Slysssa (@Slysssa) May 6, 2022
If Buddies return to the game, should they be changed?
I feel like the Buddy Meter system might need to be reevaluated. As it currently stands, it favors players who can get those early wins, giving them their Buddies earlier, and enabling them to snowball their already strong starts into wins. Maybe the discrepancy in filling the Buddy Meter could be toned down or even eliminated altogether: players would receive their Buddies on certain set turns (based on the Tavern Tier of the Buddy itself), depending less (or not at all) on their performance.
Or, perhaps, players who are behind could be allowed to make a gamble: imagine if they had the ability to pay some Tavern gold to purchase an acceleration to their Buddy meter that works on their next turn only — something you'd only do if you were confident you're about to win a bout. They'd be purposefully denying themselves an increase to their current Warband power in order to take a chance at catching up with players who are winning — or even surpass them. Risk-taking can make for interesting gameplay decisions! And this option could be limited simply to the players who are behind, to work strictly as a catch-up mechanic, rather than as an avenue for players who are already winning to snowball even further.
All in all, the removal of Buddies offers the Hearthstone team a fantastic opportunity to re-examine the system. It feels like Buddies are liked almost as much as they're disliked. The system wasn't the hit that the developers probably expected it to be. Taking it back to the drawing board and improving upon its flaws might be the best course of action to take here.
Originally posted 05/09/2022. Updated 05/09/2022.