Marvel Snap is the first game announced by Second Dinner, a studio founded by ex-Blizzard devs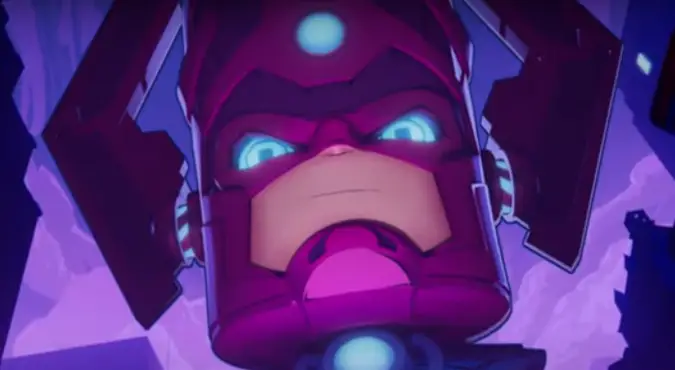 Second Dinner is a company started back in 2018 by various ex-Hearthstone alums including Ben Brode, who left Blizzard to found the company and previously was essentially the public face as well as Game Director of the popular Warcraft themed computer card game. So when I saw that Brode and Second Dinner are releasing a Marvel Comics-themed computer card game in Marvel Snap, naturally I shrugged and said, "so it's Hearthstone, but Marvel? Ok."
The Marvel Snap trailer, which is actually really high energy and reveals a lot about the game's aesthetic, actually had me more convinced it was going to be similar to the game so many Second Dinner devs helped create and make fun, what with its heavily stylized art and giant chibi Galactus. And very clearly, I did not watch past the cool animated intro until I sat down to write this post and found out I was not just wrong, but incredibly wrong. This is almost nothing like the game that Brode worked on at Blizzard.
Marvel Snap may have Ben Brode, but it's very different from Hearthstone
Honestly, had I stopped there, I would probably still think it was basically just Hearthstone with a shiny four color Marvel makeover, but luckily for me, I instead not only watched the rest of the announcement, I then watched the Gameplay Walkthrough video with Ben Brode explaining the gameplay on two matches of Marvel Snap. Marvel Snap is a computer card game, yes, but that's pretty much where the similarities end — where Hearthstone focuses on heroes and a static board, Marvel Snap draws from the locations that make Marvel what it is — places like Wakanda, the X-Mansion, Avengers Tower and so on — and has a turn-based system with simultaneous reveals so that instead of playing a card and then waiting to see your opponent's play, you both make your decisions and then both plays are revealed at the same time, meaning that you're both always reacting to the previous hand in making your decisions while also trying to plan around what you think your opponent may be doing next.
The game revolves around a system based in gambling away Cosmic Cubes — the Marvel Comics items that grant their wielder's nearly unlimited power – as the means to establish the gameplay's ranking system and the stakes that go into each hand. This Snap system lets you raise the initial stakes from 1 cube for the winner, 1 cube taken from the loser, so that by the end of the game if both players choose to Snap, you could end up winning or losing 8 cubes. And matches are fairly fast — with simultaneous card play and 6 turns per game, and the win condition being control of 2 of the 3 lands you'll be exploring, Marvel Snap will not make you waste your time.
Right now there's a closed beta for you to sign up for, but it's only for Android, so PC and other mobile platforms will not be tested right now. Still, if you have an Android device, you can sign up and potentially play this game right now, so head over to the official site if you're interested in signing up for that closed beta. From my perspective, it looks ridiculously fast paced, frenetic, and with a strategic layer created by not knowing what your enemy is going to do until you both commit to the turn that changes it all up. I'm actually sincerely curious about it, and am excited to get a chance to play it if we get a iOS or PC beta soon.