WoW
Jul 14, 2022 2:00 pm CT
Blizzard addresses some concerns with the Dragonflight talent trees in new forum post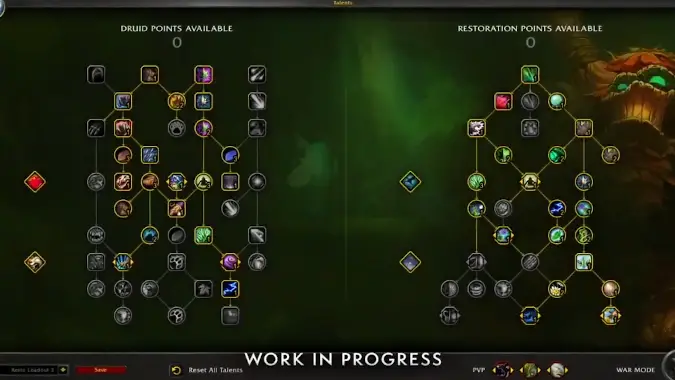 Response to the new talent trees in Dragonflight has been mixed, with the positive reaction to Old God worship muted by concerns over the complexity of the system and the potential loss of some core class abilities. As part of the alpha rollout today a new forum post regarding talent trees was published, addressing some of the issues brought up.
The first important bit of news is that talent and talent loadout swapping will not require the player to be in a rested area to accomplish — it is currently this way on the alpha — but instead can be done regardless of your location as long as you're not in combat or in an active Mythic+ or PVP match. This will make it a lot easier at endgame to have opponent-specific builds that can then be swapped out between fights.
Regarding the complexity of the talent trees, the development team is going to work on "default" builds, so that players will have the option to go with a standard loadout upon the arrival of patch 10.0 rather than have to spend time figuring out what to do. This will benefit returning players as well, for they won't have to spend 30 minutes theorycrafting or researching talent builds online before jumping into content.
Talent dependencies is also being looked at; this was a huge issue in the initial reveals, where prerequisites either felt unnecessary — why should Aspect of the Eagle require 3 critical strike improving talents? — or resulted in talents that had to be taken without even having the baseline ability it modified. As a result, a lot of the dependencies are going to be removed, allowing for more flexibility in choices and not having to waste talent points to get the abilities desired.
One other point of criticism was the placement of interrupts in talent trees, as they are a necessary mechanic for so many encounters in World of Warcraft. It's bad enough players don't use them when they should, but giving players the option of ignoring them entirely is just asking for trouble. While there isn't a solution yet, at least the development team is aware of the concerns.
There's still a ways to go with the alpha, but it's encouraging that feedback is being addressed this early in the process. Hopefully when Dragonflight launches all concerns with the talent trees will have been addressed in a satisfying manner, and there will be no regrets about failing to "pull the ripcord."