What will Overwatch 2 cost?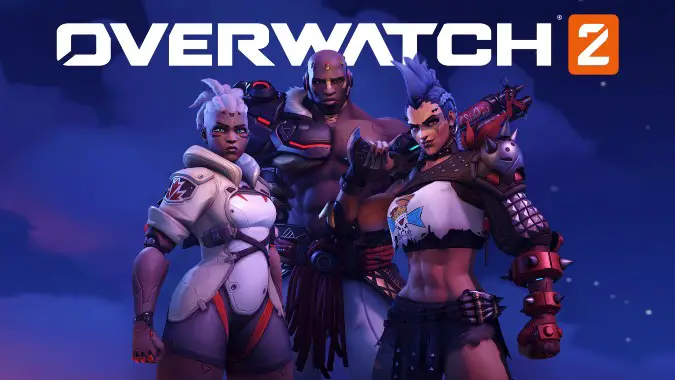 The upcoming arrival of Overwatch 2 has given Blizzard the chance to revisit many aspects of its approach to the team shooter. Players can expect to see some things stay the same; lots of heroes and maps from the original game are returning just as you know and love them. But one of the big changes on the horizon is how you'll access the game. Overwatch 2 will be a free-to-play experience, so the easy answer to the "what will Overwatch 2 cost" question is that when the game comes out on October 4, you'll be able to queue for a match without paying a dime.
However, while the gameplay is free, there will be options for players to buy in-game goodies. We know that the loot box approach will be going away — you won't even be able to buy loot boxes in the original Overwatch after the end of the final Anniversary Remix event. Instead, all the cosmetics will be unlocked either in progression through a Battle Pass or as a direct buy through a new in-game store. And the number of available cosmetics is growing, too — Overwatch 2 will add charms, banners, and Mythic skins into the mix.
Each season, the fresh Battle Pass will include new cosmetics centered on a theme and spread over about 80 tiers. Blizzard shared the unlockable rewards for the first season as an example of what players can receive every nine weeks. The Season One free tier Battle Pass will include these rewards over twenty levels:
Kiriko (for players who don't automatically unlock the new support hero)
2 epic skins
1 weapon charm
2 souvenirs
1 highlight intro
14 additional items (emotes, victory poses, name cards, sprays, player icons, etc.)
Prestige Tier Titles (8 earnable titles available only after completing the entire pass)
The Premium tier adds another sixty tiers to be unlocked. When new heroes are joining the roster, the paid track will give instant access to them, opposed to unlocking around tier 55 for free players. This paid unlocks will also include five new legendary skins, one epic skin, and the first mythic skin in Season One. Players on the Premium version will also have an experience boost up the Battle Pass. This Battle Pass approach is pretty identical to the one currently used by the Call of Duty franchise, which makes sense considering how successful the series has been for Activision.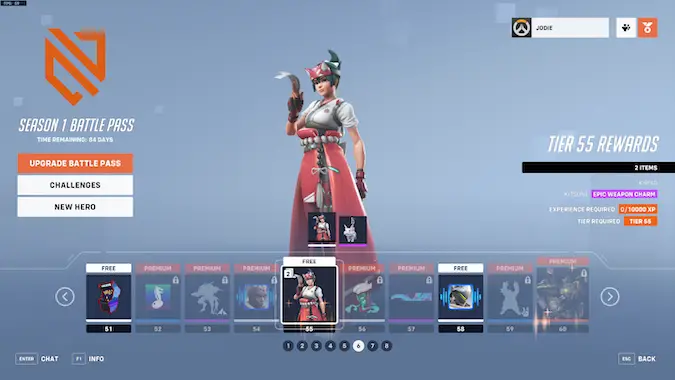 Premium Battle Pass versus Free Battle Pass
Going Premium will cost 1,000 Overwatch Coins, the new in-game currency. That roughly works out to $10 USD. Overwatch Coins can be earned through weekly challenges or purchased directly.
For a jumpstart ahead of the October launch date, players can buy the Watchpoint Pack right now for $39.99. This includes season one of the Battle Pass, two Legendary skins, and 2,000 Overwatch Coins.
Direct purchases from the new store will also be tied around rotating themes. Season One will largely focus on a cyberpunk theme. The store will also have bundles of cosmetics that regularly swap out. For the first few seasons, these bundles will include original Overwatch cosmetics. There will also be a section of personalized recommendations called 'Just for You' that center what you most often play and equip.
The end result is that Overwatch 2 will cost however much you want to invest both in time and money. Playing lots of matches and completing challenges to amass Overwatch Coins could mean you get Premium access without paying real-world dollars. It's all about the balance that works best for you.
Originally posted October 4, 2019; updated September 15, 2022.