WoW
Oct 25, 2022 1:00 pm CT
Mages, Priests, and Rogues will become available to all races in patch 10.0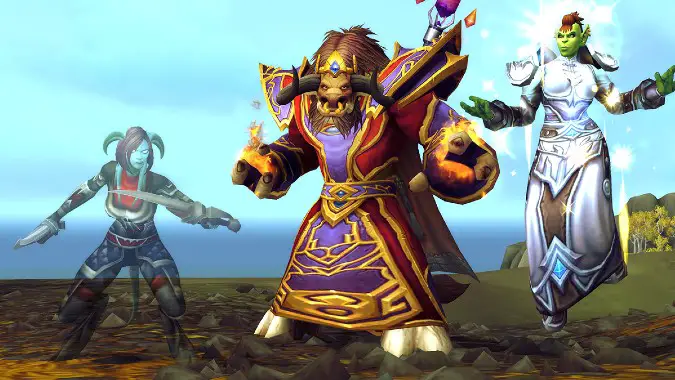 World of Warcraft patch 10.0, which lays the groundwork for the upcoming Dragonflight expansion, is dropping today, October 25, with a big improvement to character customization: all races will be able to become Mages, Priests, and Rogues. Fans of sneaky bovines, rejoice!
With this change, the following new race/class combinations will be unlocked:
Orc Priest
Draenei Rogue
Lightforged Rogue
Tauren Mage
Tauren Rogue
Highmountain Mage
Highmountain Priest
Highmountain Rogue
In an interview with content creator MrGM a while ago, WoW Lead Combat Designer Brian Holinka shared what seems to be a new philosophy in regard to race/class combination restrictions:
We wanna move to a world where the race of a character is not a limiter to what they can become in World of Warcraft. (…) More of this will come over time, but immediately in 10.0 we'll make Mages, Priests, and Rogues available to all races.
This is definitely some great news for fans of character customization and anyone who wants to see the game moving on from arbitrary limitations to their choices. The vast majority of games out there — MMO included — already allow players to pick any combination of race and class they want.
The concept that races are completely monolithic cultural entities is, frankly, outdated, Our characters, being exceptional individuals, are definitely among those that are capable of breaking the norm, and taking up whatever role they see fit within their societies. This change is a massive step in that direction.
However, we're still quite far from a world where there aren't any restrictions anymore. Although the game will allow us almost complete freedom in regard to those three classes — in addition to other classes that were already available to all races, namely Warrior, Hunter, and Death Knight — there are definitely a few classes that are harder to implement than others. Druid and Demon Hunters are the two easiest examples to point to of classes that require an enormous effort in the creation of new art assets and new customization options for the existing character models. And then, there are the brand-new Dracthyr, restricted to only Evokers — perhaps for now.
For a few other classes though, it's hard to come up with narrative reasons why they're not available yet. In theory, any race that can become both a Warrior and a Priest should also be able to become a Paladin. Warlocks are similarly restricted simply by cultural or societal impositions, but given how much time has passed, and how much the different cultures have already become integrated with one another — an example being the Orcs being taught how to become Mages by the Forsaken all the way back in Cataclysm — it's no longer too farfetched to imagine the odd Night Elf or Draenei becoming fascinated with Fel magic and studying it under a Human tutor, for instance.
There may be some practical reasons, like other art assets, that some of these other classes aren't in the list yet, but we'd bet that it's just a matter of time.  This change, combined with Holinka's statement, can be taken as indication that the WoW team is interested in dropping those restrictions more and more in the future.
Originally posted April 28, 2022. Updated October 25, 2022.