WoW
Nov 8, 2022 3:06 pm CT
It's the best time to level in WoW, with up to 300% bonus XP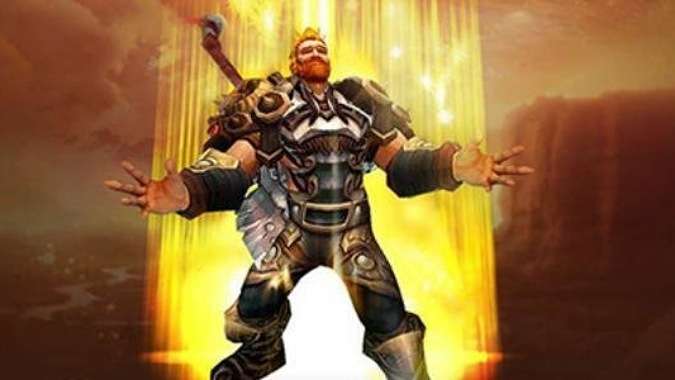 The stars have aligned this week, with a confluence of experience boosts that can help your WoW characters zoom to max level with up to 300% bonus XP. If you've been doing any leveling, you've been enjoying the Winds of Wisdom +50% XP buff for a while now, but this week WoW's 18th Anniversary celebration began, bringing another +18% XP buff (to get this one, check your mail and open the Celebration Package). And as it's the first week of the month, the Darkmoon Faire is in town with its +10% XP (for one hour) WHEE! buff that you get from riding the carousel or roller coaster (or by using the consumable Darkmoon Top Hat, which you can buy for 10 prize tickets from Gelvas Grimegate).
Combined these three buffs grant 78% extra experience, making leveling a breeze this week! However, there are even more buffs you can use to send yourself on the way to max level if you really want to maximize your leveling experience.
The Draught of Ten Lands gives you another +10% XP (for one hour), though it may be a bit annoying to get if you didn't play during Battle for Azeroth. These draughts can only be purchased at level 50+ from either Provisioner Mukra in Dazar'alor or Provisioner Stoutforge in Boralus. These vendors only appear after level 50 when Warfronts open up, and they use the currency from world quests in Darkshore and Arathi Highlands. These items are BOA so you can send them to alts, and they cost five of your faction's currency each. This buff works in any zone (not just Battle for Azeroth), but only up to level 49, so if you want to use it, get it early. This combined with above will bring you up to 88% experience boost.
War Mode is another way to give yourself an XP boost,  because if you activate this PVP mode, you give yourself an extra +15% XP, bringing your total up to 103%. But be aware that with War Mode on, your risk of dying increases and both Whee! and Draught of Ten Lands do not persist through death — but the greater the risk, the greater the reward.
And don't forget about rested XP, which gives you a 200% XP boost to kills, picking herbs, and mining ore. If you combine all of the above with your rested you're looking at +300% — 303% actually but the game appears to cap out at 300% — on your kills with +103% XP on quests. With a full set of heirlooms, your rested is extended by 60%, meaning you have plenty of time to take advantage of this amazing leveling boost.
Here's the breakdown of all of the possible leveling buffs this week:
Winds of Wisdom: +50% XP through November 15
WoW's 18th Anniversary event: +18% XP and +18% reputation gains through November 27  (must check your mail and use the Celebration Package to get the buff)
Darkmoon Faire: +10% XP and +10% reputation gains (for one hour) through November 12 (must ride the carousel, ride the roller coaster, or use a Darkmoon Top Hat to get the buff)
Drought of Ten Lands: +10% XP and +5 to all stats (for one hour)
War Mode: +15% XP (must enable in Stormwind or Ogrimmar)
Rested: +200% XP from kills or gathering
But this particular combination of boosts is only available for a limited time. The Darkmoon Faire is in town until November 12, Winds of Wisdom lasts until November 15, and the anniversary event lasts until November 27. Of course, on November 15 we'll be getting the next half of the Dragonflight pre-patch, with a pre-expansion invasion event: even without all of the XP boosts, these events are typically pretty good for leveling (and extremely good for gearing alts). We're also expecting leveling experience to be re-tuned starting on the 15th, so if you don't manage to get all of your leveling done right now, don't worry: there are plenty of opportunities to come.