What Blizzard/artist collaboration would you like to see next?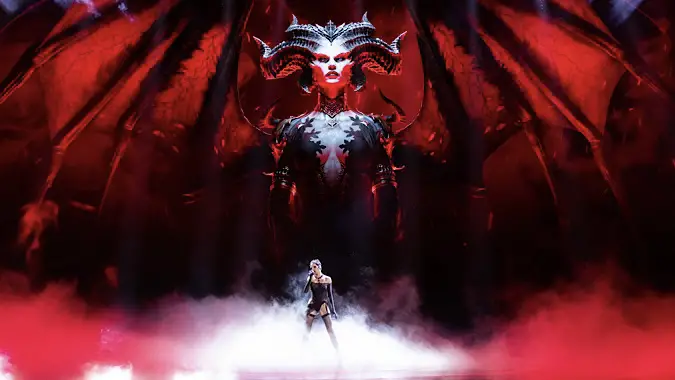 Blizzard has reached outside their campus doors for marketing collaborations in the past, to much community excitement. Just recently, Blizzard enlisted Halsey to perform as introduction for the Diablo 4 launch trailer at the 2022 Game Awards, and Mike Shinoda to craft a cover promoting Wrath of the Lich King Classic. What else could come out from Blizzard partnerships?
After her Game Awards performance, Halsey professed love of the Diablo franchise, stating that she and her family have "spent many hours together in Sanctuary" and that there is more in store for the community from the musician and Blizzard. Flanked by a giant backdrop of the titular character, her track "Lilith" preceded the D4 launch announcement with the kind of dark, edgy notes that I would expect to present the Daughter of Hatred. Could we get an entire separate soundtrack from her and other external artists, expanding on the three remixed tracks published with the Diablo 2 Resurrected release?
Mike Shinoda is well-known as a musician and artist — his career spans vocalist/guitarist/founding member of rock band Linkin Park, hip hop side project Fort Minor, and for solo project EPs, albums, and paintings. Somewhat unexpectedly, the World of Warcraft Twitter account dropped Shinoda's cover of the popular track "Arthas, My Son" from the original Wrath soundtrack just in time for the 2022 holidays (and the end of Wrath Classic's first season). And as a fan of both Shinoda's work and WOTLK… you are in for a treat. Trust me.
We don't lack for celebrities who openly enjoy World of Warcraft. Off the top of my head, I can recall multiple instances of epic cosplay from Jamie Lee Curtis, who officiated her daughter's wedding as Jaina Proudmoore. Mika Kunis once said her agent had to log into WoW to get ahold of her as she traversed Azeroth on her Gnome Mage. DJ and actor Kristian Nairn has played the title since it launched, joining a lineup of actors, comedians, and more in the #SoundTheHorn marketing campaign for Shadowlands. Felicia Day, Henry Cavill, Vin Diesel…the list is extensive.
Now it's your turn! Do you enjoy seeing stars supporting your beloved gaming franchises? What celebrity would you like Blizzard reach out to for collaboration?