What's your favorite new feature in Dragonflight patch 10.0.5?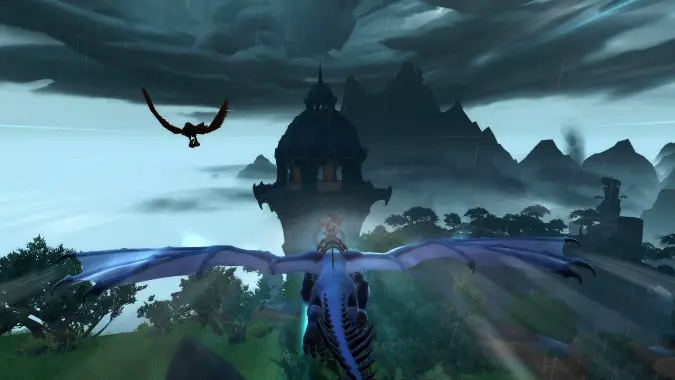 Dragonflight patch 10.0.5 has been out for a week now, and while we're still waiting for the Trading Post to start up, there's been enough time to take in all that the patch has to offer — such as the Storm's Fury event or the mad rush to acquire white and grey items to add to the transmog wardrobe. While light on story, patch 10.0.5 does move it forward a little with the unlocking of the Revival Catalyst and the journey back to the Primalist Future. My favorite feature of patch 10.0.5, however, isn't actually a new feature at all but an achievement that was added to highlight that feature: Airborne Tumbler.
I've been a fan of Dragonriding so far (despite a couple small complaints) but my biggest criticism was reserved for Whirling Surge and Bronze Timelock. While I was able to figure out a use for the latter — it's useful when you're struggling to climb up mountains to plant banners or unlock Dragonriding glyphs — the Whirling Surge felt like a wasted ability. Sure it's a giant speed boost, but at the cost of 3 vigor; it felt more efficient just to Surge Forward three times instead. Then the Airborne Tumbler achievement was added in patch 10.0.5,
I'm not a big or competent PVP player but I do like to sometimes do World Quests in War Mode for the bonus transmog unlocks and just for the thrill of getting killed three times in one minute (it keeps me humble). Still, I'm working towards the Malicious title and so every day I turn on War Mode and visit the daily PVP quests. Working on Airborne Tumbler, though, has become the highlight of my day. It's not because it's really challenging — I'm assuming 90% of the players I knock off their mounts don't even know how or why it happened — but because of the patience involved. It's not easy hitting a moving target even if it doesn't realize you're after them, and the high vigor cost of Whirling Surge essentially means you only get one shot every few minutes.
Yes, I know I could cheese the achievement with a friend taking turns dismounting each other but there's something intriguing about playing the role of the Red Baron that makes it worth working towards. Once I complete it I plan on wearing my "Skyscourge" title with pride, even if none of my victims knew they were targets in the first place.
What about you, though? What's your favorite new feature in patch 10.0.5? Are you enjoying all the new transmog opportunities? Have the improvements to the Feast (Yes Chef!) made soup-making more enjoyable for you? And speaking of War Mode, how nice is it to be able to turn it on in Valdrakken now?