WoW
Apr 1, 2023 10:00 am CT
April rewards spring up in WoW's Trading Post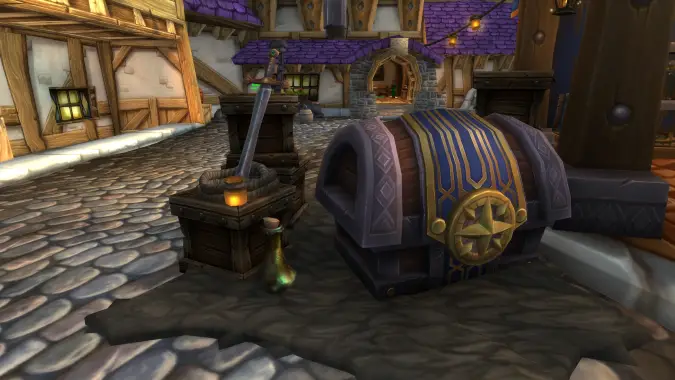 Another month has come and gone: it's April, which means there's a new set of rewards in World of Warcraft's Trading Post! This month's Trading Post rewards feature fewer sets and more individual pieces, plus a new mount, pets, and transmog sets. Be sure to stop by the Collector's Cache in Orgrimmar or Stormwind to receive your monthly reward of 500 Trader's Tender or complete this month's Traveler's Log objectives to try and earn enough currency to buy anything that catches your eye.
Here's everything you can get in the April Trading Post.

April Trading Post mounts
Mounts have returned to the Trading Post line-up with a new color variant of the Cloud Serpent:
April Trading Post transmog, armor sets, and cosmetics
This month one-handed and off-hand items dominate the loot pool giving you plenty of options to mix, match, and create different pairings for your characters:
For our spellcasters and hunters out there looking for to add some variety to your wardrobe, there are new ensemble sets available for you to peruse:
For you collectors looking for more body pieces, pickings are little slim this month with a head piece, back piece, and gloves to choose from:
April Trading Post pets
The featured pet for April is Egbob for 600 Trader's Tender! Only Pippin and Lil Ragnaros remain in the known pet pool, but we should get patch 10.1 right before summer, which means we will undoubtedly see more pets and other items added to the Trading Post loot pool.

April Trading Post bonus reward
Completing this month's Traveler's Log objectives and filling the bar at the top of the log will earn you the new Arsenal: Blades of Elune set! This is the first set from the Trading Post so far that's made me stop in my tracks and I'll definitely be completing the Log objectives to earn it.
If you've missed out on the previous monthly rewards for February and March, we don't know if they'll be available again — much less when they might be available again — but if you're looking for a specific piece of loot that hasn't appeared yet, we're tracking all potential Trading Post rewards. Just be aware that list is datamined, and until those items are live in-game, they may change their appearance — or they may never appear at all. Still, these are likely future Trading Post rewards, so we have a lot to look forward to.