Hunt Treasure Goblins in WoW for the chance at Diablo-themed loot, including the Baa'lial battle pet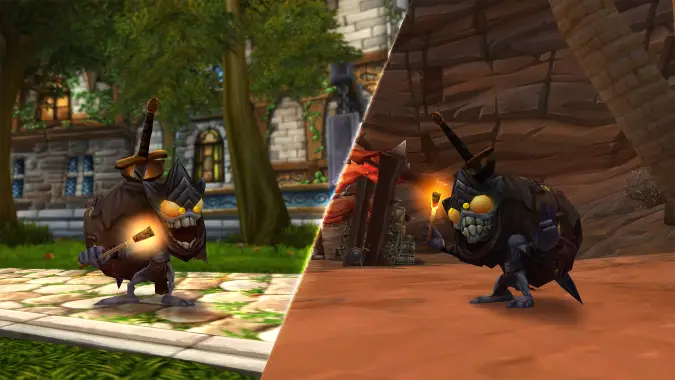 A new Diablo-themed crossover event is now live in World of Warcraft: A Greedy Emissary, in which Treasure Goblins spawn across Azeroth and offer Diablo-themed loot, including the Tyreal's Charger mount, a 36-slot bag, and the adorably demonic Baa'lial battle pet. The event runs through June 13, and will be followed by a second Diablo-themed event, Welcome to Sanctuary, from June 15 – July 11, with an experience and reputation buff.  Hopefully that leaves you plenty of time to play around the Diablo 4 release on June 6.
Right now, it's all about taking down Treasure Goblins. Let's look at what at exactly what you need to do to get all of the loot during A Greedy Emissary.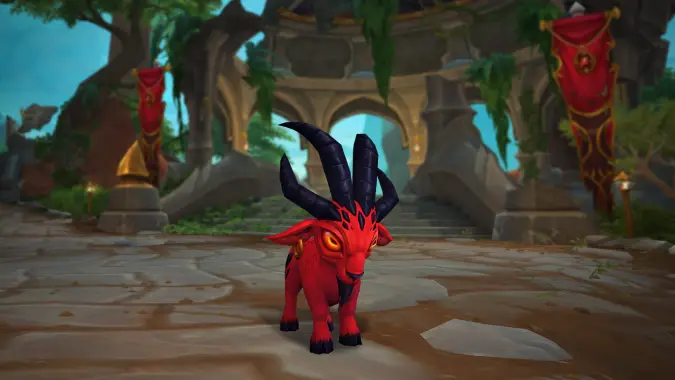 How to participate in the Greedy Emissary event
This event will mainly involve hunting down Treasure Goblins as they spawn throughout Azeroth. The goblins spawn every half hour, alternating between Stormwind, Dragon Isles zones, and Orgrimmar — they'll switch between Stormwind and Orgrimmar every other hour, and always be in a random Dragon Isles zone on the half hour. But the spawn schedule may not be quite that precise, as we've seen goblins spawning in multiple zones at once. In short, keep your eyes open for Treasure Goblins, wherever you are.
Just like in Diablo, you'll want to hunt down Treasure Goblins to get loot, and there's a lot of loot to get:
Look for a Treasure Goblin portal on the map shortly before the goblin spawns: show up and be ready with your AOE to tag the goblin as soon as it goes out. Multiple portals can spawn in a zone, so keep an eye on your map to see if there are any more goblins spawning. You can keep killing Treasure Goblins for more loot for as long as you'd like — there are no lockouts.
Coming soon: Winds of Sanctuary experience and reputation buff
The second part of this event is still a few weeks away. The Winds of Sanctuary, a revised version of Winds of Wisdom, will go live with Welcome to Sanctuary on June 15 and run until July 11, after A Greedy Emissary ends. When it does, it will increase experience gains by 50% and increase reputation gains by 50% for all factions except for the Loamm Niffen, the newest faction arriving in patch 10.1. That will help you catch up with any factions you aren't currently maxed with, but you'll still have to work to befriend the Niffen.
Originally published April 19, 2023. Updated May 25, 2023