WoW
Jun 21, 2023 4:00 pm CT
Easy ways to earn Trading Post currency in June to get Quawks — with lots from the Midsummer Fire Festival, now live!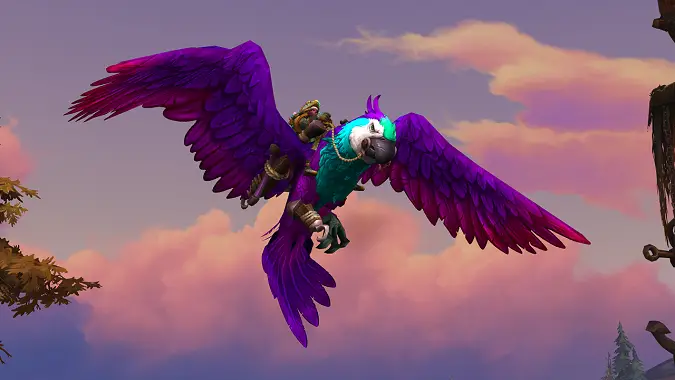 June is here and that means it's almost time for summer vacations and weekends at the beach, so you may not have as much time to play World of Warcraft if you want any of the current batch of rewards from Dragonflight's favorite new feature the Trading Post. For those players who want to get Quawks as soon as possible, we've assembled a list of activities that are on the easier side to complete — and many can be done even without the Dragonflight expansion.
As a reminder, you need 1000 points from a variety of activities to unlock the Quawks parrot mount. Doing so will also max out your Trader's Tenders for the month — you get 500 just for logging in while subbed, and an additional 100 for every 200 points you earn in the Traveler's Log (look in your Adventure Guide to find this month's list of activities). In addition, if you haven't collected it yet there is a one-time bonus 500 Trader's Tenders for purchasing Dragonflight. If there's an item you want to purchase but don't have enough Tenders to acquire after buying everything else, remember that you can save an item until the next month by speaking with the vendors.
Also remember that the activities can be completed on multiple characters. If the criteria involves multiple runs of a dungeon or raid, you can spread that out across all your characters instead of focusing on just one.
The most efficient path for point acquisition is questing:
Complete 30 Quests for 200 points is extremely simple to complete. Since the game uses quests as a tracking system for other activities such as rare spawns you will probably complete this by playing the game and working on the other activities.
Complete 15 World Quests for 150 points, which can be any done for any expansion not just Dragonflight.
Earn 4000 Reputation Throughout the Dragon Isles for 150 points. This is easy, but rather slow. If you're just starting out in Dragon Isles this may take awhile, but as long as you're questing you'll be earning the reputation you need for this — be sure to participate in events like the Grand Hunts and Community Feasts — even though the latter won't count towards any points this month, they will get you a lot of reputation (and experience if you're still leveling).
For those still leveling an alt or catching up on missed quests, Pandaria is an excellent place to visit in June as several of the easier criteria can be completed there.
Complete 15 Quests in Pandaria for 150 points is pretty straightforward to complete, and will also count towards Complete 30 Quests so you'll be halfway done with that one right off the bat.
Catch Fish in Pandaria for 100 points may be something you want to do if you enjoy fishing and/or are still working on your Nat Pagle reputation. Simply catch 50 fish in a Mists zone for this one.
Complete 5 Pandaria Timewalking Dungeons for 200 points is an option for those who like to Timewalk. This is a limited time event, however, as Mists Timewalking only runs from June 13 to June 20.
Raids and dungeons give big points, and aren't necessarily difficult:
Defeat 25 Raid Bosses for 250 points. This is the big ticket activity for the month, and it's not as hard as it sounds because it doesn't have to be a current raid or one wherein the creatures inside give experience when killed. As a result you can take any level 60+ character and farm pre-Legion raids — Legion starts to show an increase in difficulty that may make it take longer if you're not yet 70 — for whatever reason, be it transmog, pets, or mounts or just to get the points.
Defeat 50 Dungeon Bosses for 200 points could be a good one if you're leveling via dungeons, as you can't "easy mode" this activity by having a high-level toon run roughshod over old dungeons. Timewalking also does not count for this, even if you're running the Pandaria Timewalking Dungeons for the Trading Post. Still, if you regularly hit level-appropriate dungeons, those dungeon bosses will add up over the month.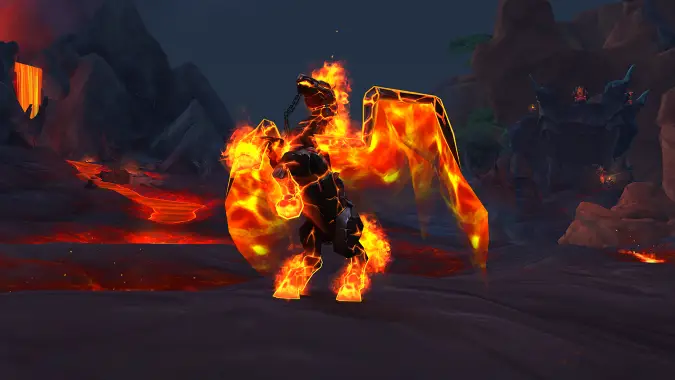 Plenty of Trading Post currency available via the Midsummer Fire Festival
Holidays and holiday-themed activities continue to be easy sources for points — but many are only available for a limited time during the month. Midsummer Fire Festival is the big holiday in June and there are so many things you can do to earn your Trading Post points from June 21 through June 30 (Midsummer continues into July, but the point-earning activities are expected to reset on July 1) that you can earn Quawks solely from participating in the holiday! In addition, Honoring Flames usually count as quests, so you'll be working towards the Complete 30 Quests activity at the same time.
Slay Ahune twice for 200 points. Frost Lord Ahune is the holiday boss and can be queued for via the groupfinder by most characters (minimum level seems to change each year — we'll update with the correct information once the event starts). It's a pretty simple fight, although since it's the first time it's been active for Dragonflight be wary of scaling issues making it tougher than expected. This can be done back-to-back on two different characters or you can send the same character through it twice — there's no lockout (although you get the Satchel of Chilled Goods only once per day).
Complete 10 Midsummer Fire Festival daily quests for 200 points. If you're a fan of juggling torches and lighting braziers this one will be pretty easy for you to accomplish; if you don't enjoy the Holiday Dailies you may want to give it a pass as it's likely more trouble than it's worth.
Honor the Flames in the Dragon Isles for 200 points. This one requires Zaralek Cavern to be accessible so if you haven't reach level 70 on a character and journeyed there this will likely not be doable. If you have, however, each of the zones has a Flame for you to Honor — locations tbd.
Honor the Flames in Pandaria for 200 points. This activity is a lot easier than the last one because it can be done on essentially any character. Each of the seven zones has a Flame to Honor (I always check the Wowhead comments for the achievement because the targets can move year to year) and doing so completes the Achievement. While you're in the Vale of Eternal Blossoms be sure to Desecrate the other faction's Flame — it's literally a small run from the one you're Honoring — for 100 points.
Visit a Festival or Summer Scorchling and /bow to it for 50 points. One of the initial Midsummer quests available at the major bonfires is Incense for the Festival Scorchlings (Horde) or Incense for the Summer Scorchlings (Alliance), which directs you to a nearby Scorchling to give Incense to. It's a cute little quest with a fun response by the Scorchling so it's recommended you do it anyway, but while you're there this year be sure to /bow to it as well for the Trading Post points.
The next group of Midsummer Fire Festival activities require Toys that you may have acquired in previous years; if you haven't you may want to focus on getting them if you still need points.
Celebrate the Fire at the Obsidian Throne for 100 points. There isn't a bonfire at the Obsidian Throne in western Waking Shores so you'll need to bring your own — the Brazier of Dancing Flames — and /dance with it. Fortunately it doesn't need to be yours, so if you have a friend with it you can dance with theirs, or you can just hang out and hope someone else puts one up for you.
Becomes one with the Fire in the Dragon Isles — literally, by using a Set of Matches — for 100 points. This one is pretty straightforward: visit the four main Covenant hubs of Valdrakken, Iskaara, Maruukai, and Dragonscale Expedition Camp and use the Set of Matches toy while there. This one can actually be completed before Midsummer if you've already acquired the toy, however if you don't have it the steep cost of 500 Burning Blossoms and the activities required to gain that many Blossoms may make it not worth the effort. In addition, the toy has a 30 minute cooldown so you'll only be able to complete this quickly if you have multiple characters to set on fire.
Emote /cold at a player on Fire for 50 points. Finally, if someone has set themselves on fire with the Set of Matches in front of you, you can target them and emote /cold for points. However, the fire debuff only lasts for 10 seconds, so this is best coordinated with a friend or guildmate.
These aren't the only activities you can complete for the Trading Post so make sure you check out the Adventure Guide in-game for more options on your path to 1000 points.
Originally published June 5, 2023; updated June 21, 2023