All Empowered Runes and their effects in Wrath Classic's Titan Rune Dungeons — with new Runes coming in Phase 4 on October 10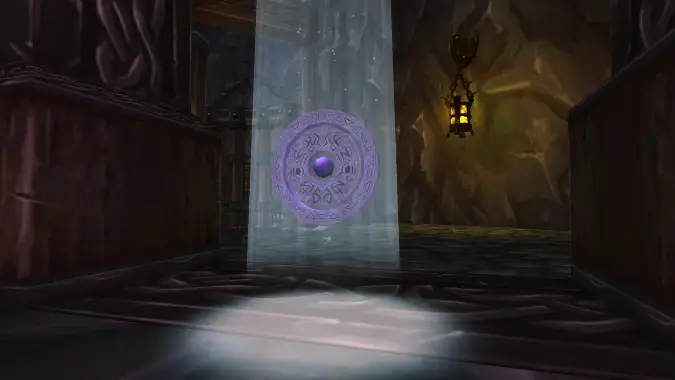 Wrath Classic Phase 2 added Titan Rune Dungeons to the game, an optional difficulty modifier for endgame dungeons — and another difficulty level is coming when Wrath Classic Phase 4 arrives October 10. When all five players in a dungeon interact with the Mysterious Titanic Relic, they can currently enable Defense Protocol Alpha or Beta, with Defense Protocol Gamma added on the Wrath Classic patch 3.4.3 PTR. Doing this causes an Empowered Rune effect to appear, making enemies deal more damage and giving them a larger health pool — but they'll also to cause a random additional damage effect (based on the dungeon) which increases in difficulty depending on the Defense Protocol chosen. Defense Protocol Gamma will add a new level of difficulty (and loot) for Wrath Classic Phase 4.
Each Defense Protocol  is tied to a loot pool for certain Wrath Classic raids, giving players another quasi-focused way of obtaining normal mode raid gear from previous Wrath Classic phases. Right now, it seems the pattern is a new set of Empowered Runes and new Defense Protocol level is released in each Wrath Classic phase, with each new Protocol containing raid gear from the previous phase.
Here are all of the Defense Protocols in Wrath Classic so far, with the new Gamma runes listed at the bottom.
Defense Protocol Alpha
Defense Protocol Alpha went live in Phase 2 and rewards 10-player normal mode gear from the phase 1 raids Eye of Eternity, Naxxramas, and Obsidian Sanctum. Each bosses also drops 1 Emblem of Valor while the final boss of each dungeon drops 1 Emblem of Conquest. These are the dungeons you can activate Defense Protocol Alpha in and which Dungeons they're tied to.
Defense Protocol Beta
Defense Protocol Beta is an additional Defense Protocol level designed to be more challenging than Alpha and as such, each of the Empowered Runes has been buffed to make them more lethal. Completing dungeon bosses under the effect of Defense Protocol Beta will reward 10-player normal mode Ulduar raid gear while the final boss will drop Sidereal Essence, a new currency used to purchase 10-player hard mode Ulduar gear from the Animated Constellation vendor in Dalaran.
Defense Protocol Gamma 
Recently the Wrath Classic 3.4.3 PTR build began testing Wrath Classic Phase 4 content and a new set of Empowered Runes tied to Defense Protocol Gamma were datamined. If it follows the previous Defense Protocol structure, these runes will be available as an additional option with Alpha and Beta, and will contain 10-player normal mode gear for Trial of the Crusader. It's likely these runes are going to be tied to the same dungeons but with the Phases winding down, this could be changed as well as the values and effects of each rune.
As for now, these are the Defense Protocol Gamma runes being tested for Wrath Classic Phase 4:
The ongoing investment and development put in to Titan Rune Dungeons make them an an interesting aspect for the remaining Wrath Classic phase releases and I am looking forward to see how Blizzard continues to create and tune runes and the reward systems to fit with previous raid releases. At the very least, they provide a way to keep content fresh as well as another activity to keep players interested in!
Originally published May 5, 2023. Updated September 14, 2023.