Tackle the Abattoir of Zir for Diablo 4 endgame challenges, starting December 5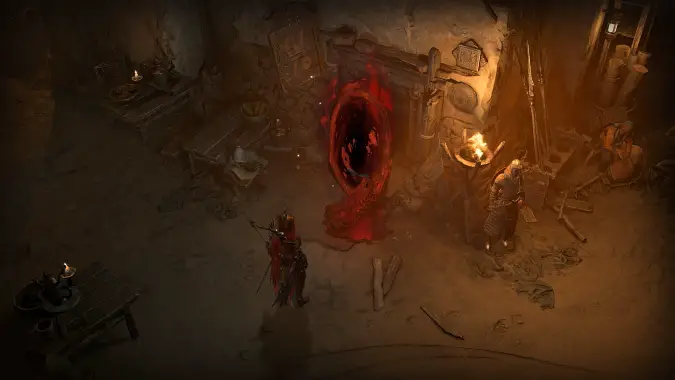 Announced during BlizzCon 2023, the Abattoir of Zir is a new, themed endgame event for Diablo 4 Season 2, described as a "grueling test" to provide an additional challenge for endgame players. This dungeon is unique to the Season of Blood and ends with the season on January 23. Let's review everything we learned about the coming Abattoir of Zir, launching December 5 with patch 1.2.3.
Courageous wanderers in the Seasonal Realm can put themselves through a grueling test in the Abattoir of Zir. From December 5–January 23, after completing the final tier of the Season Journey, enter the Visceral Channel to push your Vampiric Powers to the ultimate limit with this Seasonal Event. The Abattoir of Zir is an ultimate challenge, it's recommended to only use your best builds and Characters that are at the pinnacle of their power at Level 100. Note that all rewards earned in the Abattoir of Zir last until the end of Season of Blood.
The Abattoir of Zir is a Seasonal trial of immense difficulty; it's up to you and your skill to avoid being slaughtered by Zir's superpowered vampiric hordes. Players will receive a new crafting recipe to use at the Occultist after completing the Seasonal Journey for Season of Blood. Craft the Tier 1 Bloodforged Sigil and use it like a Nightmare Dungeon sigil to open the Visceral Channel in Ked Bardu.
Similar to Diablo 3's Greater Rifts, your goal in the Abattoir is to kill as many demons as possible to fill up the progress bar. Once you've filled your bar, the boss (maybe Lord Zir himself?) spawns to take down you and your comrades. Oh, and you have to complete all this in 10 minutes (down from D3's 15-minute timer). Good luck.
Why in the name of the Blessed Mother would you even enter this charnel floor? Well, as enjoyable as it is to tackle higher-difficulty challenges and ultimate endgame glory, let's be real — we're in this for the loot. And the Abattoir doesn't disappoint! First, the event drops Uber Nightmare Dungeon totems, granting "a lot" of normal glyph XP. More importantly, you can earn the new Tears of Blood Paragon glyph, which empowers your damage based on Core Stats purchased within range while empowering all Rare nodes within; this new glyph has a cap "ten times bigger" than existing glyphs. Plus, you learn another recipe rank of Bloodforged Sigil (up to rank 25).
The Abattoir of Zir will be a literal killing field for all but the strongest players. Start farming your Ancient Uniques and finish the Seasonal Journey now so you can check out the Abattoir of Zir beginning December 5 until the season's end on January 23. See you in Sanctuary!