WoW
Nov 18, 2023 6:42 pm CT
Amirdrassil Race to World First: Team Liquid takes the lead with World First Smolderon kill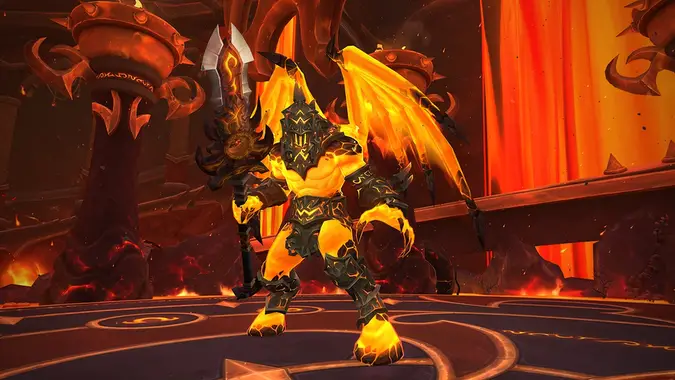 We're halfway through our first week of the Race to World First and Team Liquid has surged to the lead with a World First Smolderon kill! The new Firelord has been the first boss to really put up a fight in this race, taking Liquid 56 pulls to defeat. For comparison, all of the other fights combined took only took Liquid a total of 17 pulls.
With Liquid sitting at 7/9 bosses here are the current standings at the time of this writing:
Team Liquid 7/9
Echo 6/9
Skyline 6/9
Smolderon is akin to Sludgefist from Castle Nathria where the difficulty comes from his massive health pool and tight damage check. Liquid only managed to get their kill with their Protection Paladin left standing in a Divine Shield — so not the cleanest kill that we've seen.
There are ten guilds currently working on Smolderon. Echo is currently the closest with their best attempt so far sitting at 4.36% after 45 pulls. They could push him over soon, but they've taken a break from working on the Firelord to run more Mythic Keystones to try and get more gear onto their raiders. They didn't quite make out as well from their splits as Liquid did so they're trying to get any kind of advantage they can before reaching the final two bosses.
All that's standing between Liquid and total victory now is Tindral and Fyrakk. After their first few Tindral pulls we might finally have a boss that guilds up for more than a day on our hands. Liquid has pulled the Druid of the Flame 48 times and only managed to get into the second phase at 80%.
Will Echo be able to catch up in time? Will we see Instant Dollars join the leaders at Tindral? Lucky for us Blizzard has a Twitch Drop rolling so watching all of the action to find out will get us a nice camel mount!
Please support us on Patreon by subscribing or increasing your Patreon tier. Donate by November 30 so we can keep creating the quality content you enjoy.