Heroes of the Storm teases Leoric, Angelic Diablo, Amazon Nova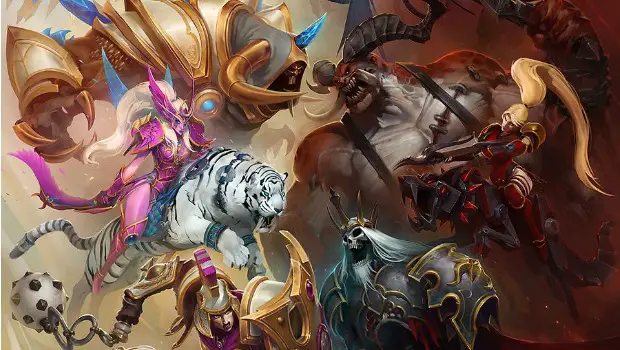 With the announcement of the Eternal Conflict campaign in Heroes of the Storm focusing on Diablo-themed content, the Blizzard devs officially previewed a new Heaven and Hell map as well as the melee Assassin The Butcher. They also tweeted out a promo image that gives us a hint of what's to come.
The Eternal Conflict invades Heroes of the Storm on June 30! Learn more> http://t.co/BovFxCLuWV pic.twitter.com/3w1lXGVysp

— Heroes of the Storm (@BlizzHeroes) June 9, 2015
Most of the heroes in the promo image are already in the game as are their skins: Pink Master Skin Tyrande, Dark Brightwing, Demonic Tyrael, though that last one is undergoing a revamp. Now we're getting to see some more Eternal Conflict content including a Diablo 2 Amazon skin for Nova (previously teased in a video), a new Angelic Diablo skin, and a confirmation that King Leoric is coming to the game, at least the undead version of him from the end of Act I in Diablo 3. We've seen glimpses on King Leoric at both the 2013 and 2014 BlizzCon Heroes panels, but this is the first hint that he is actually going to be released.
There is more Diablo content to come for Heroes. With a new champion rolling out every 3-4 weeks now, there is room for the much-asked-for Monk hero or possibly even Deckard Cain who was a favorite when we polled our Blizzard Watch readers awhile back. Maybe we'll even a second map or themed mount. Hopefully we'll hear soon.