Breakfast Topic: What's your dream character crossover?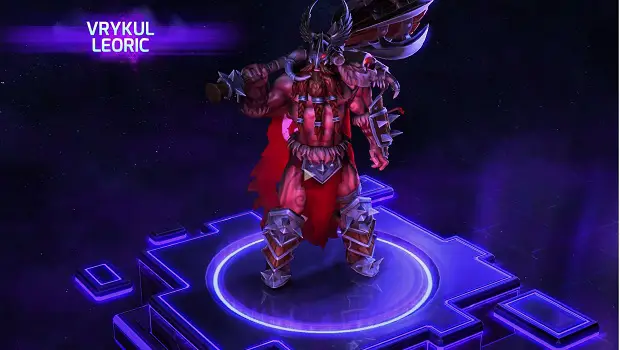 What you see above is the recently teased Vrykul Leoric skin coming to Heroes of the Storm.  This is just one of many "what if" crossovers that Heroes of the Storm's Nexus makes possible — we've also seen Spectre Illidan, AzGul'dan Azmodan, and Wrath Sonya, among others.  But with the plethora of characters in the Blizzard universe, this is likely just the beginning in a long line of crossovers to come.
If I could add another amalgam of universes to the character selection in Heroes?  I would just give everyone Shadowform and call it a day.  That's all you really need, right?  Okay, barring that option, I'd love to see a Zerg-infested version on Anub'arak.  His spikes could turn into creep and his beetles could become tiny zerglings, while the rest of his abilities take on their own delightfully terrifying Zerg theme. Or what about a Gothik the Harvester skin for Nazeebo?  Think about it, Gothik's boss encounter in Naxxramas was all about separating himself from his enemies using all sorts of ghost and zombie minions.  Between Nazeebo's Zombie Wall and his affinity for undead, the two make a perfect crossover pair for the Nexus.
So, what's your dream crossover?  Is it between two specific characters like AzGul'dan or is it a well-known enemy's skin on a familiar character like Vrykul Leoric?  And what do this hero's abilities look like in your mind?  Really think outside the box — who knows, we may see your idea in the Nexus some day!