Blizzard Watch and Con Before the Storm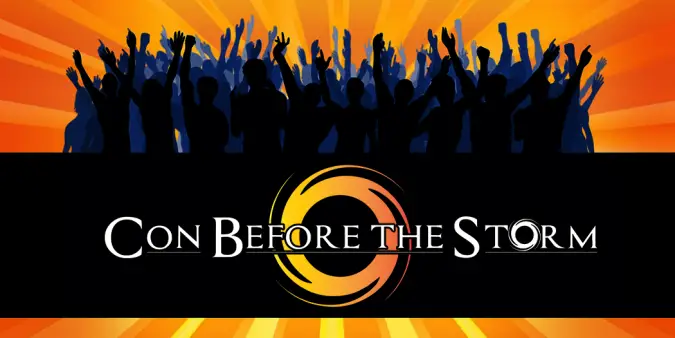 I'm excited to announce that Blizzard Watch is an official part of the BlizzCon party, Con Before the Storm. It's on Thursday, November 5, with the opening ceremony by World of Podcasts at 6pm. Head over to the Eventbrite page to get your free ticket — an accurate headcount lets us reserve enough bartenders so you don't have to wait in lines.
Now let me take a step back: what is this party? It actually started a few years back. World of Podcasts created a cool pre-BlizzCon party with panelists from your favorite podcasts. I loved the idea so much that I asked if we (I work at Ask Mr. Robot) could partner with them last year. Together, we brought in a whole lot of other fansites and had the biggest BlizzCon pre-party of the year with over 3,000 attendees. We're doing it again this year, with a brand new name, "Con Before the Storm."
It's by fans and fansites, for fans. We've rented two wings of the 4th Floor Hilton to make room for full schedule of activities. And I mean a full schedule…
Live shows, panels and presentations
The World of Podcast folks have lined up a bunch of live shows and entertainment, including a segment from Scott Johnson (The Instance Podcast). We also have "The Forum," which features panels and presentations across two different rooms. One of the panels features a behind-the-scenes look at cosplaying with Cosplay Py (first place winner in 2014), Avery Faeth (first place winner in 2011),  Inquisitor Aura and the Treasure Goblin. Yes, they will have costumes to show off and talk about! Alex Ziebart (you know, one of the founders of Blizzard Watch), will be on a panel to give an insider's look into running a fansite. Bay from Final Boss TV will be a special host for the late-night segments. And there's even a presentation about beer from the BlizzCon Beer Swap group!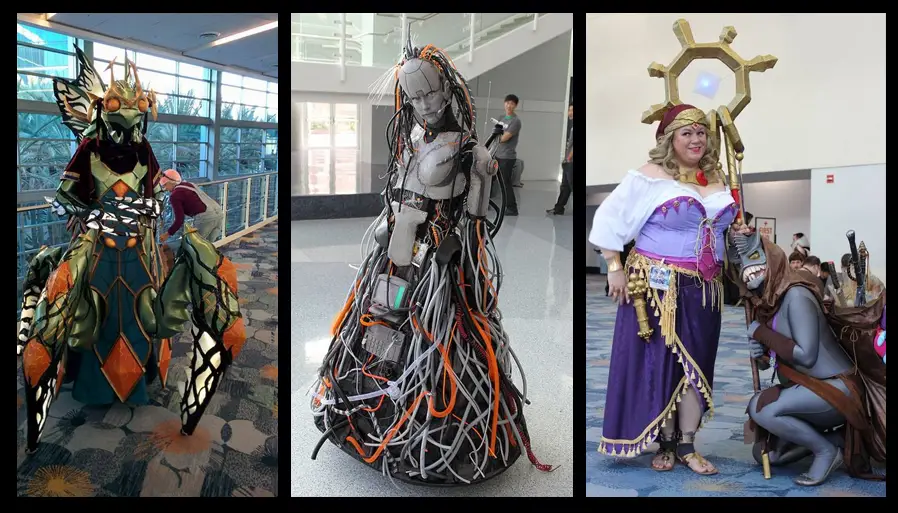 Meet, greet, and get autographs
So many of these fan-favorite personalities are just excited to meet fans, people like you! So one of my favorite people, Darrie from OpenRaid (and ZergID), has organized the "Tap Room." Drop in to fanboy or fangirl at your favorite people, or bring something for them to sign at the autograph table (like our $11 poster bundle, more on that later). I hear a few people have been brushing up on their autograph skills, like some of the Blizzard Watch writers, Elvine, and Mr. Robot (who's working on his binary signature!).  And of course, this wouldn't be complete without a Blizzard-themed photobooth. Stand in front of the green screen and pose with epic weapons. What!? Weapons?! Yes, Serephita is making a Bladefist and the Warglaives for the party's photobooth!
Fan art gallery and giveaway
The second annual BlizzCon Party Fan Art Gallery is even bigger than last year! Mr. Robot (a huge patron of the fanarts), Audra (a super-volunteer) and I have been working with over 100 artists to gather some incredible pieces of art for the gallery. Almost 200 pieces of art will be mounted and displayed in the gallery including all three winners from the Heroes of the Storm contest. The best part: all of it will be given away at the end of the night (yes, that's almost 200 winners).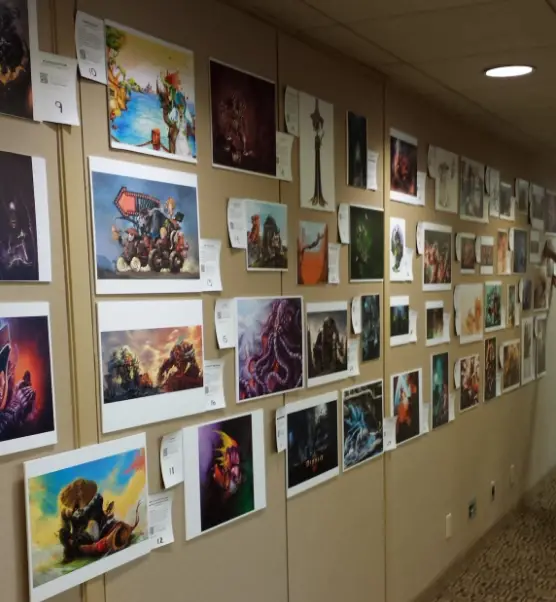 Games and a real-life Tavern Brawl
Stop in to play some in-person games with That Random Geek (that's a real person, I wasn't referring to pretty much every one of us at the party!) He's been working with d20crit to embrace your geek for an entire night of games including pub quizzes and Trolls against Gnomanity (a Blizzard-themed Cards Against Humanity we made). They are also hosting a Hearthstone Tavern Brawl with actual physical cards! Yeah, I wouldn't miss that if I were you…
Tickets, poster bundles and more
Entry to the BlizzCon party is free and so are all of the activities I talked about. Get your free tickets on Eventbrite to get an extra chance at prizes (and art). It also gives us a headcount to make sure we hire enough bartenders (the bar is not free, bring cash!).
There's also an option to buy the $11 poster bundle ticket. This is a pretty exciting opportunity: three artists gave us permission to print their art on 12×18" posters and give them to party-goers at cost. Each bundle includes a 24" poster tube that will also fit posters you buy at BlizzCon, which is handy since both BlizzCon and FedEx sold out of the tubes last year.

And if you're feeling really wild, we have a super $15 tier. It includes the posters and an extra $4 donation to help support the party. This will let us provide goodies for the autograph tables, feed the fan-volunteer staff, and maybe a few other goodies. Every little bit helps! Get your tickets.
See you there!
I can't wait to see everyone at this BlizzCon party. Hugs are FREE!* The hard part will be figuring out which activity to do first!
*Editor's Note: Please ask permission from your intended recipient before dispensing hugs. Respecting personal space is important!