BlizzCon 2015: All Broken Isles leveling zones scale to your level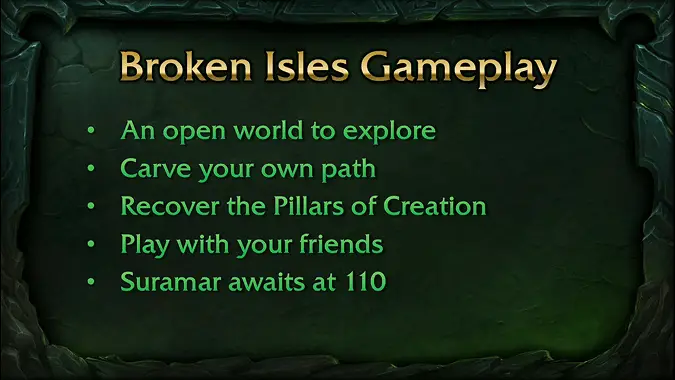 At BlizzCon 2015's Legion panel, Ion Hazzikostas revealed that the expansion will now have a much more open world feel, with zones scaling to match the level of the player. This allows players to level through each zone as they choose — instead of going to Azsuna at level 101 and Highmountain at level 107, each zone can be explored in whatever order the player chooses. This also means you can play with people at the same level, or even who are above or below you in level — the zones will be scaled to each of you individually, based on the scaling technology they've developed for things like Timewalking.
Ion assured us that we weren't going to be scaled down — your stats won't change, it's the zone that scales to you. A level 102 player in Highmountain will kill a mob at around the same level as a level 107 player, the zones will scale instead of the other way around. The quest rewards will scale to your level as well (they won't go to max level, so you're not compelled to hold off and quest at max level for the best rewards) and your Artifact will scale as well. This means you'll be completely free to choose whichever zone you want to explore in whatever order.
This also means the entire continent can be used for various purposes, instead of zones being good for lower level characters.
This seems like an amazing change to how the world functions for the leveling player, and I'm ludicrously excited for it.