Three new Overwatch heroes announced, video shows them in action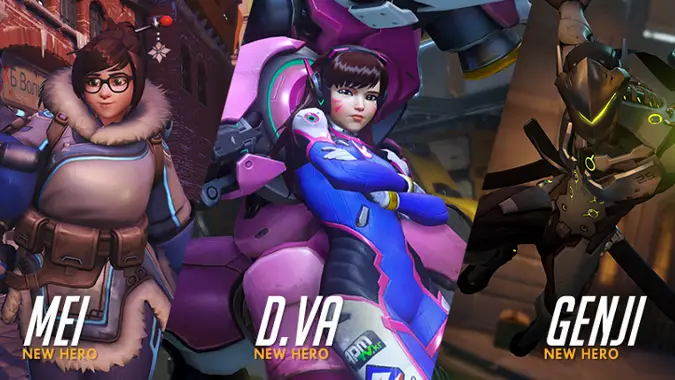 Jeff Kaplan's Overwatch teaser from the Blizzcon keynote speech involved the formal announcement of three new heroes. Genji, Mei and D. Va have all been teased in the past, and their hero pages are currently live on the Overwatch page.
Genji is the most interesting case, as he hasn't had a Blizzard-driven teaser. He's been in some key art in the past but remained a mystery. His styling alone earned him the colloquial name 'green ninja'. However, his back story was instantly galvanized in the gameplay trailer when he referred to existing hero Hanzo as "brother" to the surprised, thunderous cheers of the Blizzcon crowd. He uses shurikens and ninja swords for his attacks.
A journal teased Mei earlier last week, an adventurer and climatologist from China. Her work focuses largely on ice. She wields an ice gun, and all her abilities are all ice-based, including an impenetrable wall which should shake things up.
Lastly but certainly not least is D. Va, a former competitive Starcraft player who now shows up in a bright pink mech suit. We brought you some news on D. Va's teaser last week. She plays to win, and her bunny-themed mech suit ensures her victory.
All three are shown quite prominently in the new gameplay trailer: