WoW
Oct 18, 2016 4:20 pm CT
What you need to know about Emerald Nightmare and Mythic+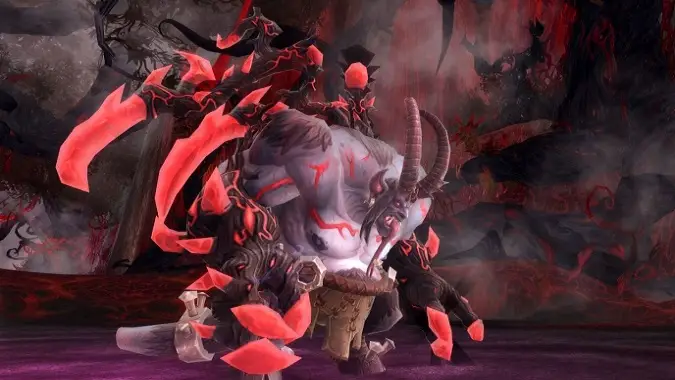 Update: The final wing of Emerald Nightmare LFR is now available, letting you take the fight to Xavius. If you're looking for help with gear or strategies for LFR or other end-game content, read on!
We're starting to dive in to Legion's more challenging content with the Emerald Nightmare raid, Mythic+ dungeons, world bosses, and PVP Season 1. I'm sure it's as exciting for you as it was for our own Matt Low, who wished us "A BEAUTIFUL DAY FOR PHAT LOOT."
Running LFR? Two of the three Emerald Nightmare wings are now open, divided as follows:
Wing 1: Nythendra, Elerethe Renferal, and Il'gynoth
Wing 2: Ursoc, Dragons of Nightmare, and Cenarius
Wing 3: Xavius
If you aren't sure how to get started with this mountain of new content, we have the guides to help you out.
Gearing up
First thing's first: you need to be level 110 to tackle this content. If you — or your alts — are still working your way through the Broken Isles, we have leveling build guides for every class in Legion. Though they won't be the best raid builds, they'll help you hit max level.
Item level requirements
Heroic dungeons: 810
Emerald Nightmare LFR: 825
Mythic and Mythic+ dungeons, Normal and Heroic raids do not have an ilvl requirement, but we would consider 835 the lowest bar for entry. Ask your raid or group leader if you're not sure what ilvl to aim for.
Where to find gear
You have a lot of options for collecting gear, so no matter what you enjoy, you can gear up by doing it. This is in part due to the new Titanforged system which has a chance to proc on most pieces of gear and boost it up to ilevel 895 (with a minimum +15 increase). Here's how the system works: when you get a gear drop, the system does a roll to see if it's Warforged (+10). If that roll succeeds, there's a second roll for another +5, making it Titanforged. If that roll succeeds, there's another roll for another +5 — and the rolls continue, until you lose a roll or hit that ilevel 895 maximum. You have the same chance of success in any content, but because higher-tier content has a higher base item level, you have a better chance of hitting that maximum.
Here's the ilevel gear you can find in different places:
Reputation: 800 – 850, with various gear pieces available from every faction — however, 850 pieces require exalted so don't expect to quickly hit ilevel requirements via reputation.
World quests: 805 (the higher your ilevel, the higher ilevel gear you'll get), can be Warforged/Titanforged
Normal dungeons: 805, can be Warforged/Titanforged
Class Hall set: 810 – 850, all of which can be upgraded to 850 by spending Order Resources
Crafting: 815, can be upgraded up to 850 via the Obliterum Forge
Battlegrounds and skirmishes: 825 (note that because PVP has no specialized stats, this gear is perfectly good for raiding or whatever else you want to do), can be Warforged/Titanforged
Heroic dungeons: 825, can be Warforged/Titanforged
Emerald Nightmare LFR: 835, can be Warforged/Titanforged
Mythic dungeons: 840, can be Warforged/Titanforged
Mythic+: 845 – 880 (the higher your ilevel and the higher level you're doing, the higher ilevel gear you'll get),can be Warforged/Titanforged
Emerald Nightmare Normal: 850, can be Warforged/Titanforged
World bosses: 850, can be Warforged/Titanforged
Emerald Nightmare Heroic: 865, can be Warforged/Titanforged
Emerald Nightmare Mythic: 880, can be Warforged/Titanforged
Legendary drops: 895
Gearing guides
For full details on where to find gear, check Wowhead's gearing guide and, if you want a more specific list of upgrades, Mr. Robot's Upgrade Finder will point you to specific gear upgrades.
Emerald Nightmare
Emerald Nightmare is exciting, since we get to step into the corrupted dream and finally face Xavius. Here's your chance for retribution for Val'sharah. Here's where to start:
And if you're looking to maximize loot acquisition, you can also start trading gold or order hall resources for Seals of Broken Fate to get bonus rolls.
Mythic+
The new Mythic+ dungeons work similar to Diablo's Greater Rifts, and offer increasing challenges and rewards the higher you go. Mythic+ dungeons are a great way to progress as a smaller team since the keystones will keep unlocking higher difficulties each time you complete the dungeon. Getting to level 15 will award a new color for your Artifact Weapon. Check out:
World bosses
World bosses have also arrived! There are 11 bosses in total, and they work similar to the World Quests we've had the pleasure of doing. When each boss is up, their quest will appear on your map and will be available for several days at a time. These bosses drop 860 loot and several profession recipes, so they're always worth doing. Killing 8 bosses will also unlock one of the colors for your Artifact Weapon.
For a detailed guide on their abilities and loot tables, check out Wowhead's World Boss guide.
PVP Season 1
And, last but not least, PVP Season 1 starts today. Arenas and rated battlegrounds are now available and players can start competing for the new Gladiator gear and mounts. If you're just starting out, check out how to unlock PVP talents. The Prestige system is new with Legion, so check out Wowhead's Season 1 Prestige guide for a good overview of the PVP system.