Cute Overwatch collection coming to Tokidoki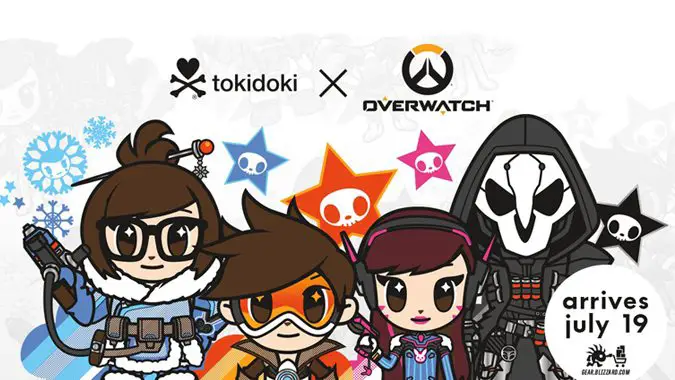 A new Overwatch collection is coming to the Japanese brand Tokidoki, purveyor of all cute and adorable things. A teaser was posted today, both on Overwatch's Twitter account and tokidoki's Instagram. The collection will officially launch later this month on July 19.
We don't really know what it will entail, but we can make some educated guesses. Tokidoki makes all kinds of products — apparel, bags, accessories, toys. They even have jewelry and phone cases. A variety of options is clearly to be had. We already have enough Overwatch figurines via Figma and Funko Pop so it's likely we'll see more of the apparel side. Unless, of course, Overwatch is branching out into those sweet plushies. I think we all need an adorable Reaper plushie in our lives. We already got a nifty preview of a hat, though Reaper really needs matching sparkly eyes.
https://www.instagram.com/p/BWL1GoVgBC0/
The Overwatch apparel has been a huge hit with the heroes t-shirts and the new JINX hoodies. We all know how much everyone loves cute things like the Cute But Deadly line, so adding cute Overwatch is just an added bonus. What really has me excited are the bags. Cute But Deadly briefly had a characters bag on Blizzard's store site, but it was limited and now long gone. The Tokidoki bags offer far more options. Imagine something like this but with Overwatch heroes. Yes, please. Purses, guys and gals. We can never have too many purses. They even have matching wallets, luggage, and pouches. New apparel options will be really nice too, though the size range on Tokidoki's current apparel looks relatively limited.
We don't know how many heroes from Overwatch they'll incorporate, whether it's the whole roster or just the four featured in the header. Hopefully they'll branch out and make full use of the line, since anything Overwatch is bound to be popular.