Knights of the Frozen Throne comic series is full of tall tales about our favorite heroes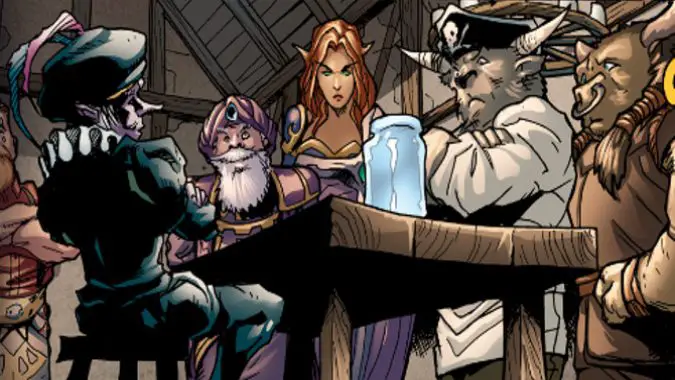 Are you excited for Hearthstone's upcoming Knights of the Frozen Throne? Are you wondering just what in the heck is going on with all of the characters being Death Knights now (and what's the deal with the lore inconsistencies)? Then Blizzard has a series of online comics that do absolutely nothing to answer any of those questions because, to paraphrase Joel Hodgson, repeat to yourself: it's just a game, I should really just relax.
If you'd like to read some comics about a somewhat dishonest bard who makes up stories where Arthas and Jaina stay in love, about the epic battle between Rexxar and his army of undead zombie-headed sharks vs. Malfurion while Gul'dan plots in the background, or how Valeera Sanguinar and Garrosh Hellscream murdered Anduin Wrynn, Blizzard has these three comics of dubious accuracy here for you to peruse. Framed as tales told in a tavern on the lonely road to the Frozen Throne itself, the Hearthstone comics Undeath Conquers All, Forest for the Weary, and Freedom show folks playing Hearthstone while telling tall tales about its famous heroes, giving us a glimpse into the kind of playful approach to the lore the game exemplifies.
These comics don't explain a lot, but they don't have to. What they do is give you a look at the kind of strange new powers and cards your favorite Hearthstone characters will have at their disposal once you step into the new expansion. I'm seriously creeped out by the zombeasts, man. Go check them out and get an idea of what's coming when Knights of the Frozen Throne hits — or just for a look at a totally different side to your favorite Warcraft characters.