Does Jaina appearing on BlizzCon key art mean anything? Probably not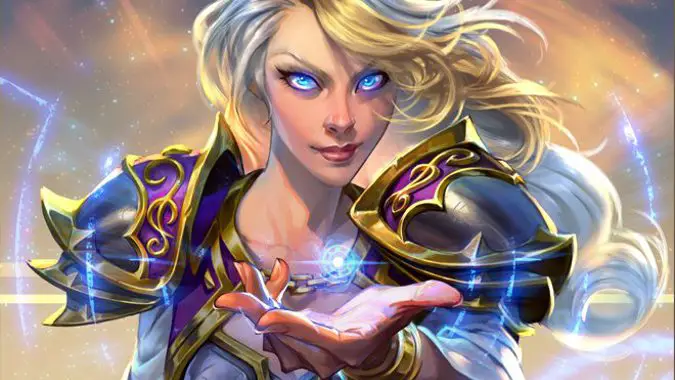 Earlier this month, Blizzard Entertainment revealed Jaina Proudmoore will be representing World of Warcraft on this year's BlizzCon key art. We've been debating whether or not this actually means anything for what's to come in World of Warcraft — and honestly, probably not. Chromie was the WoW representative in BlizzCon 2016's key art and we certainly didn't get an expansion based around Chromie, even if she did get a lengthy scenario in Legion. Most likely, Jaina's inclusion means nothing but recognizing she's a beloved character from the franchise.
Correction: Chromie represented Heroes of the Storm in BlizzCon 2016's key art, while Sylvanas represented World of Warcraft. While Sylvanas did have a notable role early in Legion, she hasn't been a major player beyond that point.
Jaina will be representing @Warcraft on the BlizzCon 2017 Key Art! pic.twitter.com/PhC7TSEah8

— Blizzard Entertainment (@Blizzard_Ent) August 4, 2017
Given Jaina's status as a beloved (or, if not beloved, at least recognizable) figure within the franchise, I hope she does play a role in what's next for WoW, even if this key art doesn't mean anything in particular. Her recent in-game appearances have all shuffled her off-screen in a not-too-pleasant fashion. Both new and returning members of the Warcraft roster, such as Khadgar, have largely pushed Jaina out of the game's narrative. Whatever narrative role or position Jaina held, a new character has been introduced to replace her.
It's certainly been a bizarre thing to witness: World of Warcraft pushing Jaina away while Hearthstone embraces her as the voice of their latest expansion. Elsewhere in gaming, Jaina Proudmoore has become the de facto lady mage design. Meanwhile, WoW lets the character rot. Imagine Blizzard writing Tracer out of Overwatch. Unthinkable, right?
No, Jaina appearing on BlizzCon key art doesn't necessarily mean anything. But we can hope it does. And given Jaina doesn't have the WoW evil shorthand of black eyeshadow streaming down her cheeks in the key art, and Hearthstone just used the Jaina is evil thing as an alternate universe gag, hopefully Blizzard won't walk that path in WoW.