Celebrate frosty fun in Blizzard games with these holiday events
The holiday season can be a baffling one to me in real life, but luckily in video games it's a lot simpler. Blizzard has always had a knack for boiling seasonal celebrations down to a certain essence. Whether your game of choice is Heroes of the Storm, World of Warcraft, or maybe Overwatch, there's a holiday celebration for you in most of Blizzard's games. (Sorry, Hearthstone players: that holiday event is over.)
And while there's no actual celebration as such, even the folks over at Diablo 3 are in the festive mood with a sale for the holiday season. I have to say I don't entirely blame them for not, as an example, putting a Holiday themed boss in Diablo 3. It would kind of ruin the mood. Still, we've got a lot we can to celebrate this festive time of year in the safety of our gaming worlds, so let's take a look.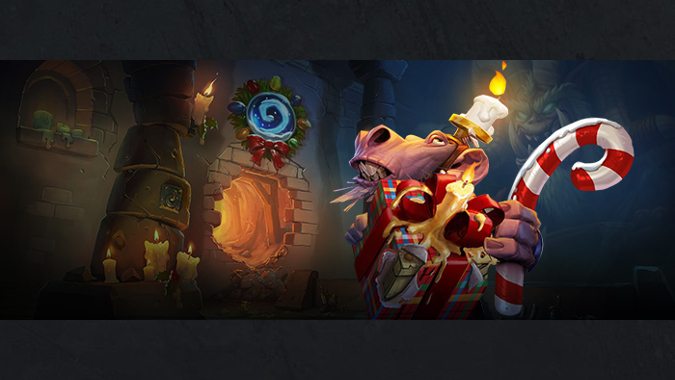 Malfurion makes with the merriment
We've already seen a little of the Winter Veil goodness in Heroes of the Storm, but Greatfather Malfurion is presiding over a cavalcade of wintry fun this time around. Only a frozen, black, shadowy, monstrous heart belonging to someone who talks to knives could possibly resist the new skins, mounts, sprays, and portraits available this year. Plus there's a snow brawl that will allow you to throw snowballs at people while you're engaged in epic battle, so that's always good. Play two games for a Nostalgic Reign-Deer spray, seven games for a Winter Veil War-Banner, fifteen games for a Red-Nosed Reign-Deer portrait, and win five games for an Arctic Reign-Deer Mount to ride and impress all your friends while you prepare to throw snowballs at them until they die and have to respawn back at the base.
A Winter Wonderland in Overwatch
This year, Overwatch pulls out all the stops. You can hunt a yeti — poor Winston — collect new holiday skins, get some emotes, there's new voice lines, victory poses, even a ridiculously cute comic celebrating the holiday in much the same vein as this year's Halloween Terror comic.
Remember that Mei's Yeti Hunt is available in the arcade. It's a five vs. one game mode that has you hunting down and harassing a poor Yeti who's just trying to enjoy the holidays, you heartless monsters. Poor Yeti Winston, hunted through the snow by a team of five wily Mei, over hills he goes, rampaging all the way.
Of all of this, I think my personal favorite is still the Mistletoe intro with Widowmaker, but Yeti Hunt looks like a fun time if you're down for it.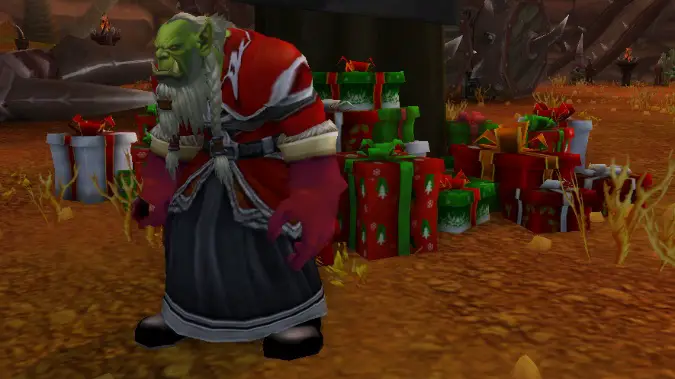 Greenchs, Festive hats, and Smokywood Pastures
Meanwhile, while the Feast of Winter Veil hasn't really changed in World of Warcraft, neither has it faded away — you can still engage in a wide host of merriments to celebrate the season.  There is, of course, that perennial seasonal punching bag the Abominable Greench to go punch in the face up in the Hillsbrad Foothills, and the quest to go punch him is now a level 60 and up quest that scales, as does Greenchy himself. But there's more — if you're looking for seasonal headgear for your character, you can bash Saprish in the Seat of the Triumvirate, Krosus in the Nighthold, or Talixae Flamewreath in the Court of Stars to get a special red holiday hat, or if green is your color, go beat up King Deepbeard in the Eye of Azsuna, smash Varimathras in Antorus, or head to Black Rook Hold and fight Illysana Ravencrest for a chance at a green one instead.
And this year's holiday presents are now live! Be sure to check under the trees in your capital city — you'll never know what presents Greatfather Kobol….er, I mean, Winter put under that tree. (Actually, we do know, but if you want to be surprised, don't click this link.)
Plus there are cookies.
So pick your game of choice, or play 'em all and get all the holiday cheer and loot you can handle with Blizzard's holiday events this year.