Artifact transmog likely to remain tied to spec, exceptions on a "case-by-case basis"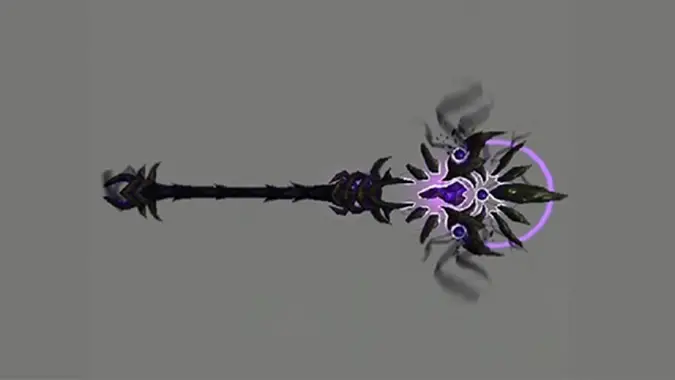 Artifacts have been a mainstay of our characters all throughout Legion, and earning different variations of them has been an ongoing goal for most players. This is especially true given some of the appearances will be Legion-exclusive ones. But for some players, appearances tied to their off-specs are among their favorites — and because of this, they're wondering if Artifact appearances will still be tied to spec.
For example, Rogues, who use daggers in both Assassination and Subtlety, have been wondering if they'll be able to use some of their favorite Subtlety appearances while playing Assassination (and vise versa). Similarly, someone like myself has been wondering if the Holy Priest Artifact appearances will be usable by Shadow Priests in the next expansion. Why? Because we've had a dagger all through Legion, we'll likely end up with a staff at some point in Battle for Azeroth, and some of the Holy appearances look surprisingly Shadow-y (and also totally awesome).
Thankfully, I had the wonderful opportunity to ask Senior Producer Travis Day and Senior Concept Artist Jimmy Lo about this exact topic. And while the answer may not make everyone happy, it's still great to know they're willing to listen to players:
Mitch: "Transmog junkies are kind of wondering about appearances for specs…uh, for example, Holy Priest staves. Some of them are really cool looking. Will Shadow Priests be able to use those as appearances? 'Cause some of them look very Shadow-y!"
Travis: "Yeah, and they're very spec-specific in their look and their art style." [To Jimmy Lo] "How would you guys feel about, like, just from an artistic perspective, like, having people cruise around in things that are…clearly not, look-wise, for their spec? Like [Chris] Robinson I could see having a reaction to that."
Jimmy: "It's always been a tough thing to kind of, like.. predict what players will do, how they will be used. We try to make it spec-specific to try to sell the fantasy and try to make it look as cool as possible.
Travis: "There's two things at odds, which is, we want to give players a lot of freedom, but at the same time, we want to control, like, thematic class fantasy.
Jimmy: "Yeah, to a certain point, right?"
Travis: "Yeah. So it would be on a very case-by-case basis, I guess. And if there are particular ones we should look at, then we probably would."
I should also point out that almost immediately after this exchange, I mentioned the Void-style Holy staff, and Travis Day pulled out his phone to make a note about it to Shadow's transmog list. Now, I realize that's not a promise or confirmation or anything of that nature, but it's a solid indicator that Blizzard is willing to look into these sorts of things. So if you've been hoping that that one specific look will make it into your transmog list, don't just hope really strongly — let Blizzard know why an appearance should belong to multiple specs.
Just maybe don't be super pushy about it. Constructive feedback is always the key. For more information on Battle for Azeroth, be sure to check out our full summary of all the big announcements from the WoW Media Day.