BlizzCon costume contest winner finds herself in the Stormwind Stockades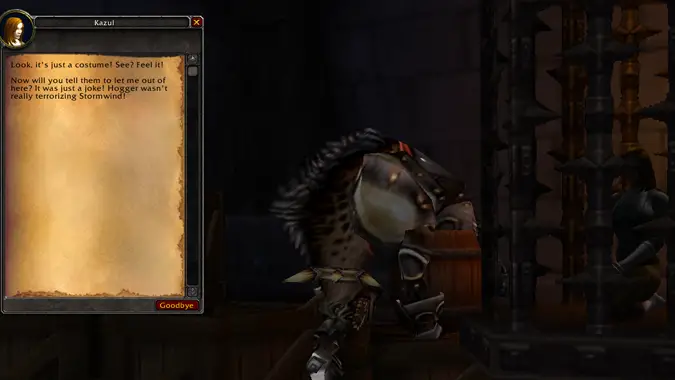 Last year's BlizzCon Costume Contest was a doozy, and the winner has found her way into Azeroth. Kazplay won the Costume Contest with a beautifully done recreation of Hogger, chieftain of the Riverpaw pack of gnolls and terror to all low-level Humans just trying to get through Elwynn Forest. In the Battle for Azeroth alpha, Kazplay makes her appearance in the Stormwind Stockades. A Human woman named Kazul is locked in one of the cages. Next to her is a crumpled "Hogger" costume lying on some crates. Interacting with Kazul will open a dialogue box, in which Kazul protests her current predicament. It was just a joke, guys!
This isn't the first time a costume winner has made their way into WoW. At BlizzCon 2015, contestant CosplayPy won with a beautiful recreation of Grand Empress Shek'zeer. Unfortunately, she twisted her ankle, and part of the costume was broken — which meant not a lot of people got to see it. However, her victory lives on in Talador, where a Faerie Dragon named Pydarter can be found on the coast. Speaking to Pydarter opens a text option that will prompt her to transform into a miniature Shek'zeer.
Kazplay's rendition of Hogger was one of the highlights from last year's BlizzCon. I remember following her progress — along with thousands of other people — on Twitter, and man, that win was well earned and deserved. It's great to see her take her rightful place in Azeroth…even if that place is the Stockades. There's a lesson to learn here, guys. Don't joke around about Hogger. The Stormwind guard is just a little touchy when it comes to the subject of gnolls.
You can read more about Kazul's appearance in the alpha on Wowhead, although fair warning, the post contains some spoilers. And for more from Kazplay, check her out on Facebook, where she continues to delight and marvel with amazing new creations. Hopefully we'll see her skills again at this year's BlizzCon as well!