If you could change one thing about Battle for Azeroth, what would it be?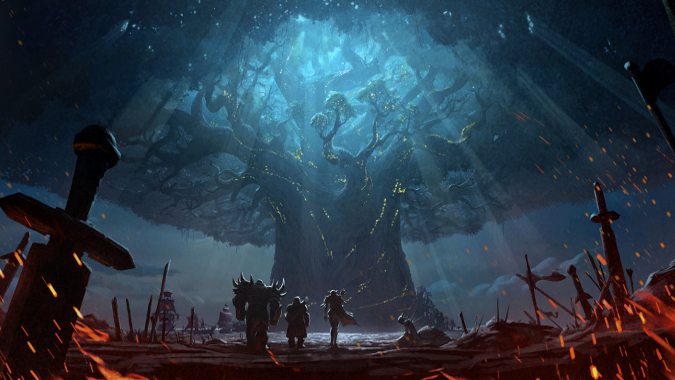 We're just barely over two months away from the launch of Battle for Azeroth, and the clock's ticking on ways for Blizzard to throw us a curve ball. That doesn't mean that they couldn't still have a few tricks up their sleeves, mind you — just that there are only so many ways to do so at this point. However, given the global launch that was recently announced, I'm starting to wonder if maybe they do have some sort of twist planned.
Sure, a global launch is absolutely something Blizzard could brag about from a technical standpoint — but what if it were more than that? What if there were some cinematic or change in dialog or big reveal that Blizzard wanted the entire world to experience at once? It might be a stretch — especially because the pre-patch still has to happen — but I can't help but wonder what sorts of ways they could surprise us.
Personally — and, again, this would be hard to do with the existence of the pre-patch — but if Blizzard were planning to swap the order of events as they pertain to the major attacks (Teldrassil and Undercity), I would be thrilled beyond belief. As it stands on beta, we only have the scenario leading up to the burning, as well as the attack on Undercity. What if the actual order of events were the attacks on Ashenvale and Darkshore, the attack on Undercity, and then the burning of Teldrassil?
It stands to reason that if the Horde invaded Ashenvale and Darkshore for Azerite, the Alliance would understandably seek retribution. More so, were the Alliance to seek retribution and succeed (which they do), the Horde would, in this order of events, have a solid foothold to stage a return attack on Teldrassil. Maybe I'm reading into things too much — but, man, do I wish the Alliance were the ones to attack a major city first. It's one of the major things I'd change about the expansion if I could.
Which leads me to my question for the morning: If you could change one thing about Battle for Azeroth, what would it be? (Oh, and even if your idea is a bit of a stretch, let's try to keep things from being too cynical, shall we?)